I love the mountains. I enjoy running, climbing and occasionally falling in the mountains. Do I know my way around the mountains? No, not really. I know some of them, the Skyline route mainly and I'd say another ten maybe, some by name, some not. After some discussion with mountain encyclopaedia Sean Nickell a while back we talked about giving the DRR a go.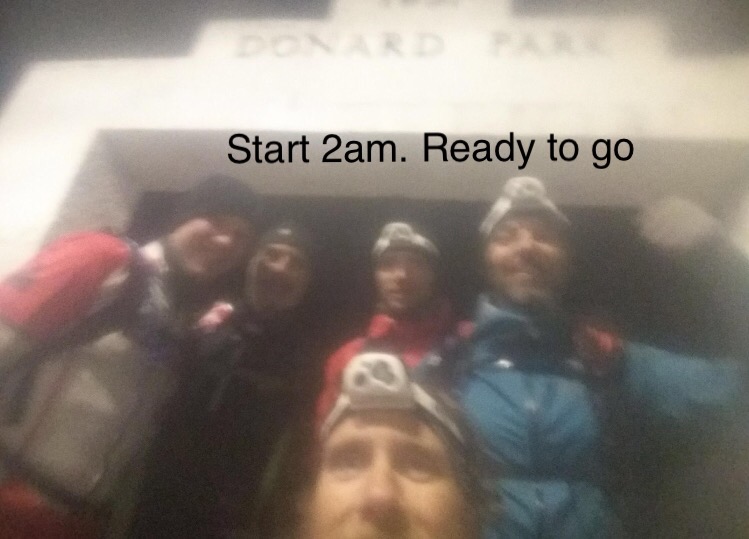 Sean set up the Whatsapp group on 23rd Nov 2018 and added me with the opening line "I think this might be the start of it", I replied "show me where to go and I'll follow". He knew what he was getting then, one lemming. Mark Wier and Marty Campbell were added soon after, another man who knew his way around the Mournes and another lemming (two lemmings now). Keith Clarke was talked into it (didn't take much coaxing mind you) a bit later, which completed the team and added the third of the lemmings. We started organising a date to go.
Saturday 13th July was the day that seemed to suit everybody. A 2am start was decided on. One of the most important things happened in the build-up to the 13th and that was the addition of the most important team member on the day, the crew member from Heaven, Robbie Marsh. We were set. Arrangements made.
Meeting in the Donard car park between 12.30-1.00 on the 13th the spirits were high, drop bags were organised (some better than others) and Robbie took the photograph under the arch. I think some of the belly laughs had in the car park about fishing took the minds off what was ahead. We set off at 2am.
Robbie following up through the forest. The craic was great, and the pace was steady. Robbie dropped off back to the car to head off to Silent Valley to meet us at the end of Stage 1.
We made steady progress up Donard and the lemmings actually knew where they were. They had been up Donard many times, one of them even 12 times in a row and still never got lost. Still though, they followed Sean, just in case.
Top of Donard, first one done, thirty nine to go. Heading towards Chimney early signs of deliriousness started to appear when Keith Clarke mistook a lighthouse for a head lamp. Thankfully he quickly came around and we plodded on. We didn't even slag him. Top of Chimney, Rocky and Beg were windy and visibility was poor. It was here that the extent of the lemmings knowledge was exposed with Mark and Sean checking maps and compasses and Keith, Marty and myself huddled together like Emperor penguins fifteen feet away saying "they couldn't do without us like".
The sun came up and with a fresh day ahead the five of us made it to Binnian Summit at 06.48 where we met Robbie "The Mule" Marsh with all our drop bags, legend status rising. We quickly got a bite to eat, had a laugh, restocked up on liquids, and left Robbie again. Robbie's leaving comment of "there will be soup at Deer's Meadow" the incentive to keep the steady pace up.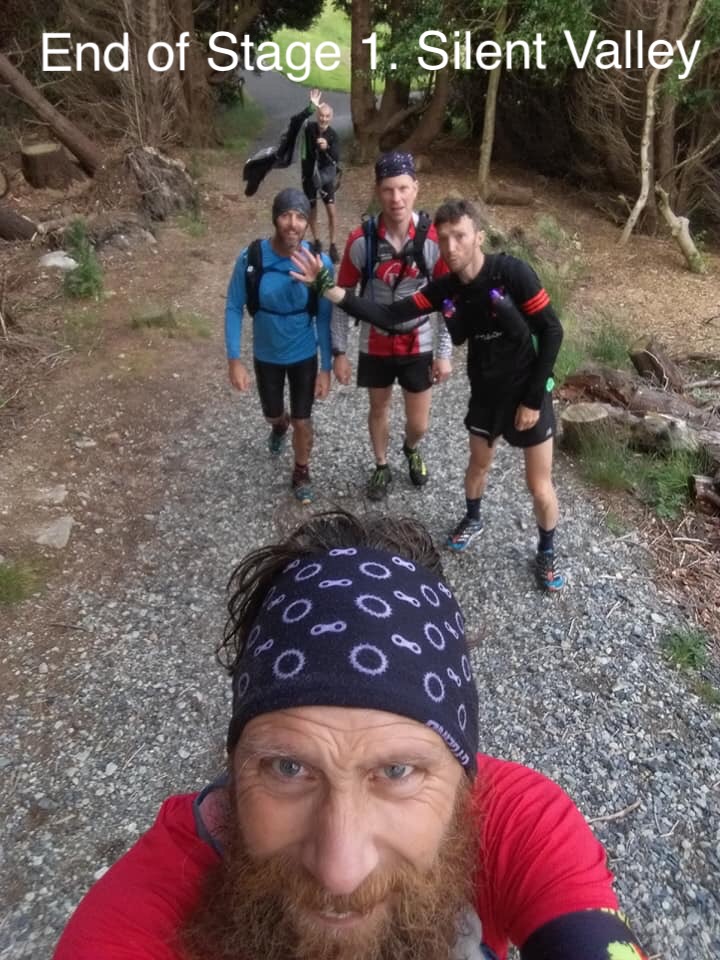 Stage two was a milder weather hike at pace mostly with a never-ending walk up to Doan and a spectacular view from Ben Crom a lowlight and a personal highlight. With spirits still high, and the thought of vegetable soup, wheaten bread and coffee a constant dangling carrot we arrived at 'Hero Marsh's Deer's Meadow Café'.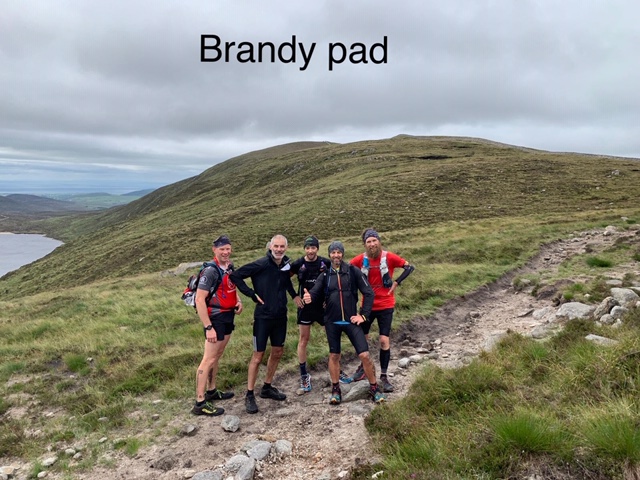 All five of us filled our bottles, had warm vegetable soup and took energy bars, Shot Bloks and anything else needed and headed to Slieve Martin.
Starting to get serious now. Pigeon to Eagle came and went with steady determination and Sean and Mark were holding the elastic lead of the Lemmings in tow. The Lemmings following every line took by Nickell, so much so that if he had have slipped over a bank we would have thought that was the right way, and slipped over it too.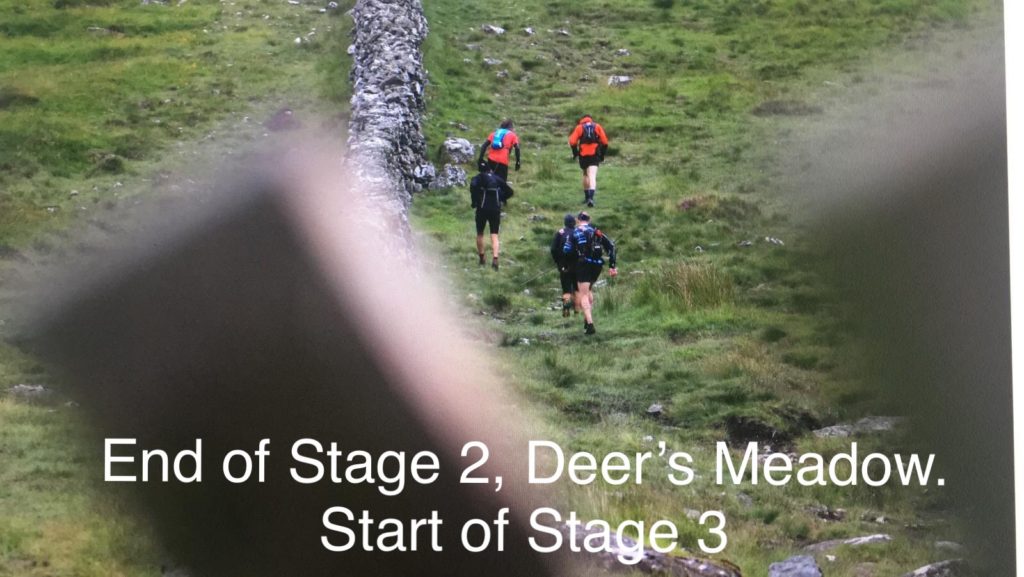 The landscapes changed, moon surface like gravel and turf then to long grass and thick energy sapping moss and water. It was tough and getting very warm. As we headed to Slievemeen we heard Robbie shout from the Slievemartin summit, it was good to know we were near at the end of stage 3. We hit the end of Stage 3 at 15.16 greeted by another legend in Ali Shaw. Another feeding frenzy and another act of sacrifice when Robbie donated his very own socks to Chipper! (at least he got his socks changed).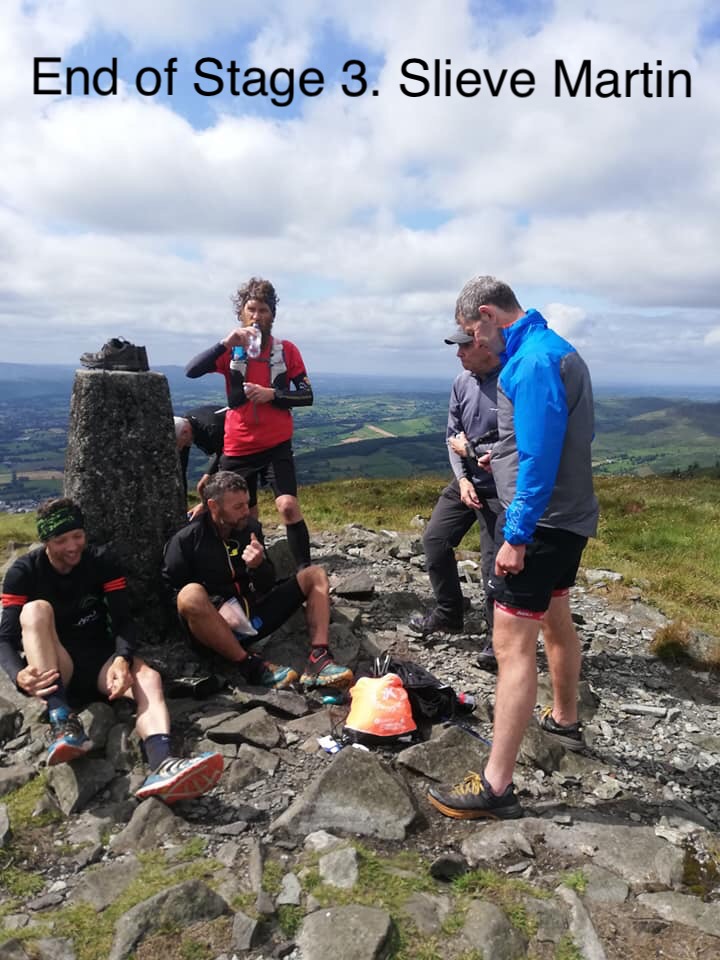 Mark's shoe malfunction changed the dynamics a bit and the terrain continued to challenge. No clear trails, knee high grass, a Decaman sinking to his groin in mossy swamps. It was really starting to burn now and fatigue was creeping in.
Mark made a brave and, in hindsight, sensible decision at Pierce's, which you will read, but I believe this is only a comma in Mark's DRR story and definitely not a full stop. I'll be there to see you complete it Mark, and look forward to it.
We continued up to top of Rocky then Cock with Keith dropping back slighly and running out of water. Marty and myself decided to leave a few mouthfuls of water in a bottle at the top of a cairn hoping he would pick it up. We found out three days later that he did, leave no trace!
We finished the fourth stage at Spelga greeted by a feast fit for a king, hot vegetable curry and chips! Robbie Marsh you absolute legend!! Sean, Marty and myself didn't even take up the offer of plates and instead got stuck straight into the pan like starved savages.
Aaron Simmons was on hand here to document the curry savages, and didn't even take up the offer of a few mouthfuls despite a brilliant run at the Mourne 500s that day (we had met him on his own adventure much earlier in the day).
We had six hours to get finished. A moment of doubt was quickly turned into a "Right lets go" refuelled with curry, chips and a tin of Coke. Keith was in the good hands of Mr Marsh and the three of us knew that he would be shouting at us to get on with it. The three of us discussed at the time how long we might need to wait for Keith to be ready to rock again. There may have been a fine line cut off, we knew that if Keith thought for a second we missed a cut off time because of waiting on him he would not have been happy. It's in his nature. We also knew that the same man would not be stopping, even if Robbie didn't at that stage.
Over a gate, with no complications or differences of opinion, and again through long grassy tracks. Over then to Ott and Loughshannagh Marty and me following Sean. The pain in my knee, of which we all made a decision earlier not to moan about, was getting tighter. I did moan, sorry lads. Coming down Meelmore was agony. Light was beginning to drop and every step down that granite was agony.
I thank Sean Nickell for many things over those 24 hours but none more so than waiting for me at the bottom of Bearnagh. I'm not sure I could have either found the line or indeed the will to get up it if it wasn't for watching your headtorch lit beard and footsteps in front of me. It helped massively, thank you.
Up Commedagh was like a 24 hour race, on and on, and on…"Please tell me we are near at the top" I asked Marty and Sean only for Marty to say "We haven't even started the climb to Commedagh!". Class. "Just get me off this mountain"
The next hour or so down to Donard carpark was dark, cold, windy, lonely and every careful step I took hurt. I just wanted to be warm and get to the Arch. Marty was in front now, Sean just behind me. I got to the car park around 1.09am and instead of the massive rush I was expecting to have, I just couldn't wait to get sat down in the heat.

Marty met me and I touched the Arch, we shook hands, hugged and congratulated each other. Coat on, Sean was not far behind. Another hug of congrats and the photo of the three under the arch. I was glad to have finished, I was glad the three of us were at that arch. We were done.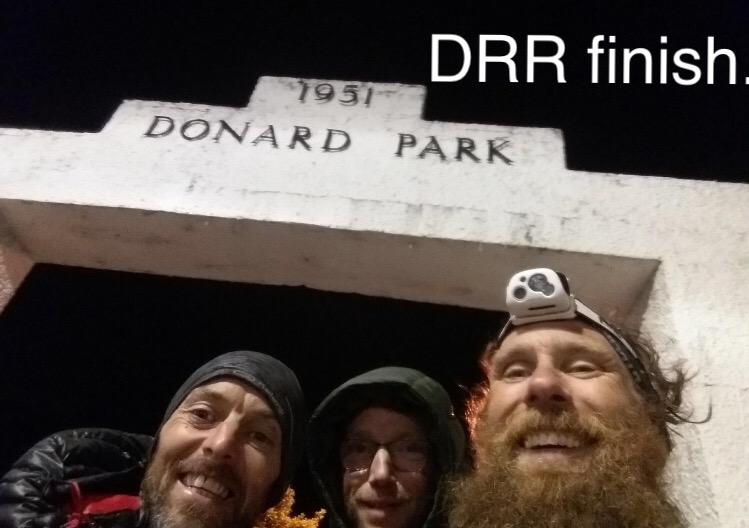 Into the car now, heat on full blast and wait on Keith finishing now because we knew he would be coming. He did.
The Denis Rankin Round was tough. The people I took it on with made it achievable. The experience was one that I will remember for so many reasons, laughs, pains, brutal climbs, amazing Mourne views and effortless teamwork. Sean, Mark, Marty, Keith it was a pleasure being in those mountains with you lads.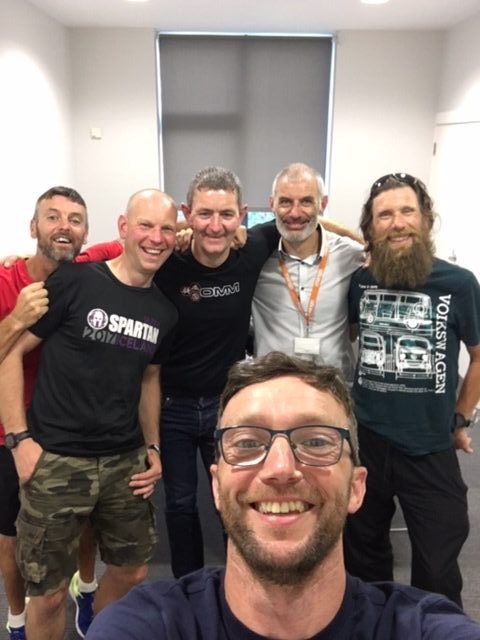 Robbie your crewing was the stuff legends are made of and the five of us will forever be indebted to you, too, top job! Things will never be the same again