Introduction
Charmian and I have been coming over to the Mournes for a few years and have enjoyed the Mourne 2 Day and the various British Championship races. I had heard vaguely of the Denis Rankin Round but my interest was piqued when Konrad Rawlik set the current record in April 2017. We made a concerted effort to recce all the legs at least twice and Dale and Denise Mathers were able to offer valuable advise regarding route choice especially around the tricky Crenville area. It has been in the back of my mind for two years and so with an extended holiday planned after the 2019 British Champs race, I hoped to give it a good go.
The Champs race was shortened due to strong winds and driving rain so I recovered quite quickly and decided to make an attempt on the DRR on Monday 29th April. As I climbed Donard the clag enveloped me and I had little more than 30 yards visibility throughout the first leg. I dropped down into Silent Valley and could not even see the dam but hoping it might clear I pressed on despite having a very sore ankle from putting my foot down a hole descending Chimney Rock. By Deer Meadow it was obvious that a sub 24 hour round was not on the cards and so I decided to quit and save my energy for another attempt later.
We set off on a tourist trip of the Antrim coast for a few days to allow my ankle time to recover and kept a close eye on the weather forecast. Problems with our van brakes made me think I was jinxed but the intervention of a very helpful mechanic on Saturday got us back on the road and I settled down for an early night although the anticipation meant I got little sleep.
Report
Leg One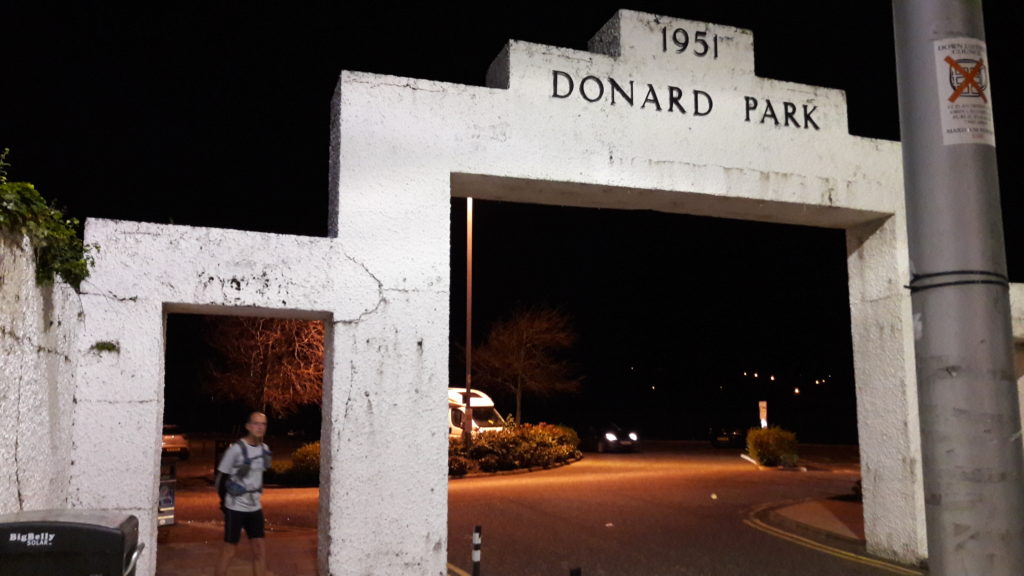 Just before 3am on Sunday 5th May, I stood in Donard car park watching the few remaining boy racers getting their last circuits of the car park in before their bed time, whereas I was just about to start my day. After the obligatory photo at the white entrance archway, I trotted out of the car park and the day suddenly got dark and quiet as I steadily ascended the track beside the Glen River to reach the summit of Donard in just over an hour. Just on the horizon there was a faint glow that became full daylight as I reached the summit of Rocky Mountain and my third top about an hour later. From Here to Slieve Binnian, where I saw another runner out enjoying the early morning sunshine and the crisp clear views over the mountains, I had the hills to myself. Following a slight nav error here, I was soon on my way over Wee Binnian where I was looking forward to meeting Charmian for some food at the stile overlooking Silent Valley.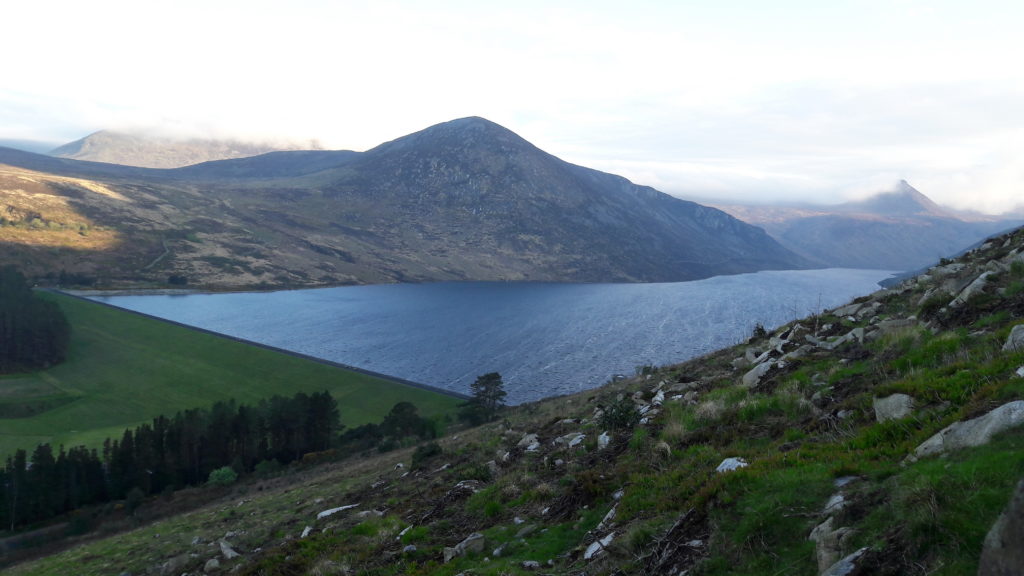 Leg Two
Suitably fortified I was soon running over the dam and still feeling good and enjoying the day. The first part of this section, the long track up to Doan and then round to Ben Crom never inspired me but it was soon over and before I knew it I was coming over Slieve Muck to be greeted by Stevie Wallace who guided me on the best lines down to my next food stop at Deer Meadow. It was also good to see Ricky Hanna who had come along to offer words of encouragement.
Leg Three
With plenty of food stowed away I was soon off again. From previous recceing the last nine hours had been over fairly familiar ground but I would need to concentrate more over the next three legs. Running over Pigeon, Slievemoughanmore and it's wee baby, Eagle and Shanlieve, I knew that the next few miles would be a trial with all the rough going. Getting over the peat hags to Finlieve and down to the forest didn't seem too bad and I gave the wet boggy section by the forest a wide berth. Finding a quad bike track was a bonus and I hopped over the stile to be met by Charmian with Dale and Denise Mathers. It had taken me around twelve hours to get to this point so with another twelve hours available I began to feel more confident of completing although anything can happen. Dale and I popped up the out and back to Slievemeen before I sat down and had another good feed.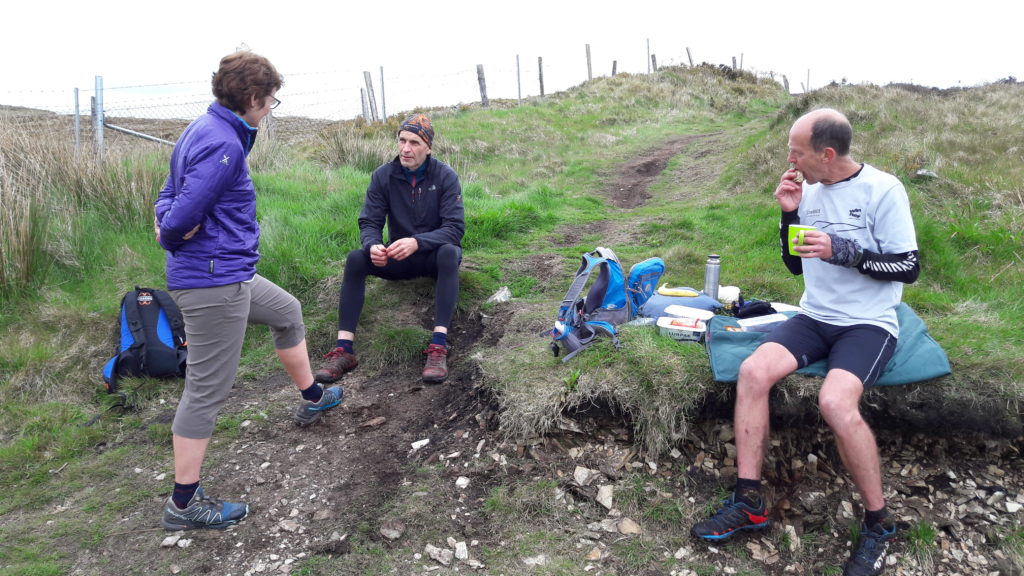 Leg Four
Dale then joined me for the start of leg four where there is some horrible going but with some nice short cuts and steady running we were soon over Slievemartin, Crenville and out the other side of the forest. Just before Pierce's Castle, Dale dropped off to the car park after pointing me in the right direction to Rocky Mountain. After the Castle and as I was on my way to Rocky, up pops Denise to accompany me to the top and point me in the direction of Cock Mountain. I knew that after one last flog up Cock Mountain, Spelga Dam would be in sight, where I would be met by Charmian again with more food. It was a great surprise to see Mark King who had heard that morning from Stevie that there was a run on!!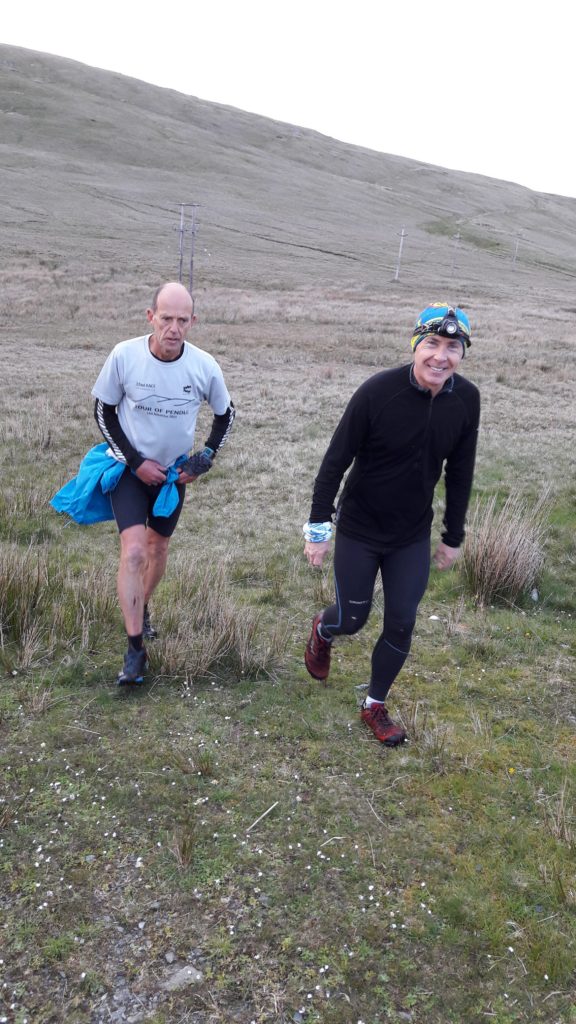 Leg Five
Suitably fortified by pizza and chips, Mark and I set off on the final section. By now I was feeling weary with aching feet and tired from not getting much sleep the night before. As I knew there are some big climbs on this last leg, I reminded myself that I would need to man up. With Mark doing an excellent job guiding me around the rough stuff, the first four tops went by fairly easy. Then came Meelbeg and Meelmore which both seemed endless climbs and this was where I had to give myself a good talking to. We put our headtorches on about now so the climbs didn't look so big in the dark but I was still very steady going up but managing to run the downhills OK. Mark led me up the right hand side of the wall climbing Commedagh and from the top I knew that the only way was down. So, it was over the top and try to follow the path down to the forest which went well and the stile soon appeared in front of us. We trotted down through the forest and back to the car park where the boy racers were still doing their circuits. I wondered whether they had been there all the time I was out in the hills.
So, after 20 hours and 21 minutes, favourable weather and great company, the day was very satisfying. It is a fantastic round and I will be spreading the word when we get back home in the hope of encouraging a few more fell runners to give it a go.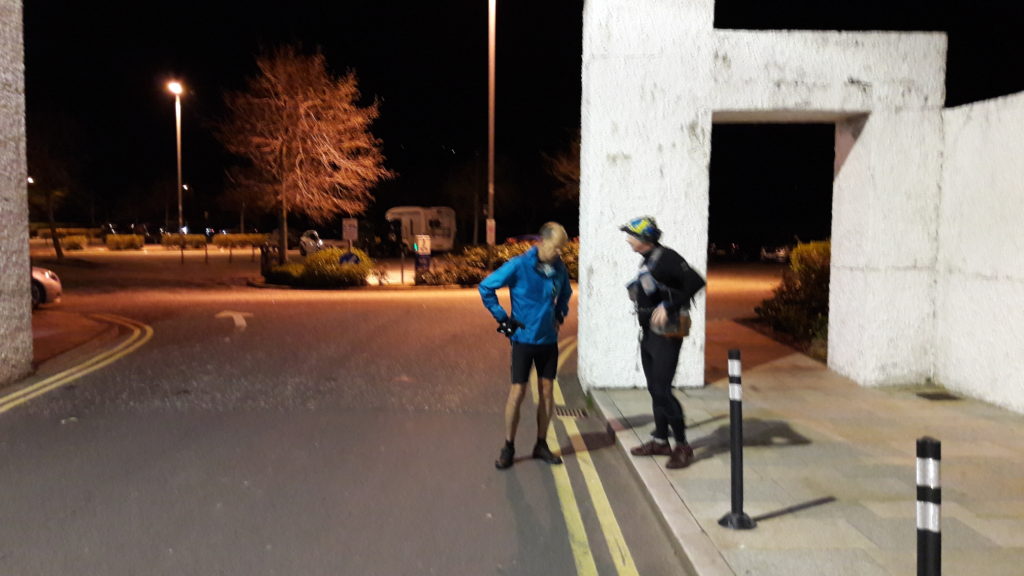 Thanks all