I remember being part of BARF team invited to Dawson Stelfox's office in 2013, Denis was part of BARF and a legend in the mountain running community, he had done so much to promote mountain running and had achieved so much, he was missed and we wanted to honour his name. the meeting was to fine-tune the aspects of the round all the Mourne peaks over 400m, 56miles and 6500m ascent.
I had just completed the Mourne 500m, all the Mourne peaks over 500m so was amazed at what Dawson was suggesting; I really thought it was not possible! The first Barf team relay recce to see if the round was possible was carried out on a wet and cold September day but many Barfers came out to support, we did it in 23hrs and 13mins, ah, but that was a relay, could one person do it? Next year Billy and Greg smashed it in 20hrs and 29mins. Well, that lit a light in me; I'd love to try it. Over the years, in between injuries, I did lots of recces of the route, trying to find the best lines. My knee had prevented me running for two years but now I was getting stronger and I decided to set the date. My husband said I should go on Mastermind, specialist subject "The Rankin Round", I was always pouring overtimes, routes, the website, it was time.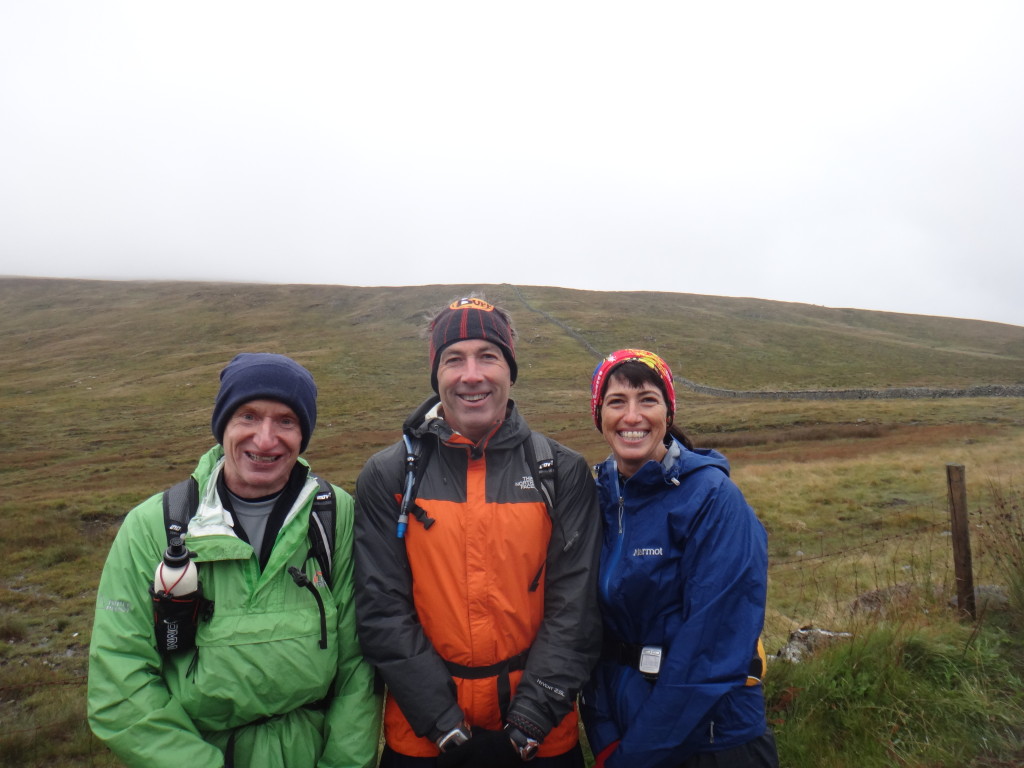 Failed attempt
A failed attempt four weeks earlier when I pulled out at Hares gap due to palpitations and lightheadedness (perhaps due to too much caffeine) was hard to swallow, I had let so many people down so close to the finish. I was fast and strong most of the day, but definitely not good going into Spelga. Taryn had been there all day and was looking forward section 5, my legs were strong but I knew something was not right. I was thinking of my daughter Grace who made me promise I'd stop if I wasn't okay. Despite Taryn's best efforts which got me to Bearnagh, I really thought I could collapse on Taryn in the dark with heavy mist on top of Bearnagh, I had to stop. When I started talking gibberish, she knew she had to let walk out at Hare's gap, even though I still had plenty of time to finish.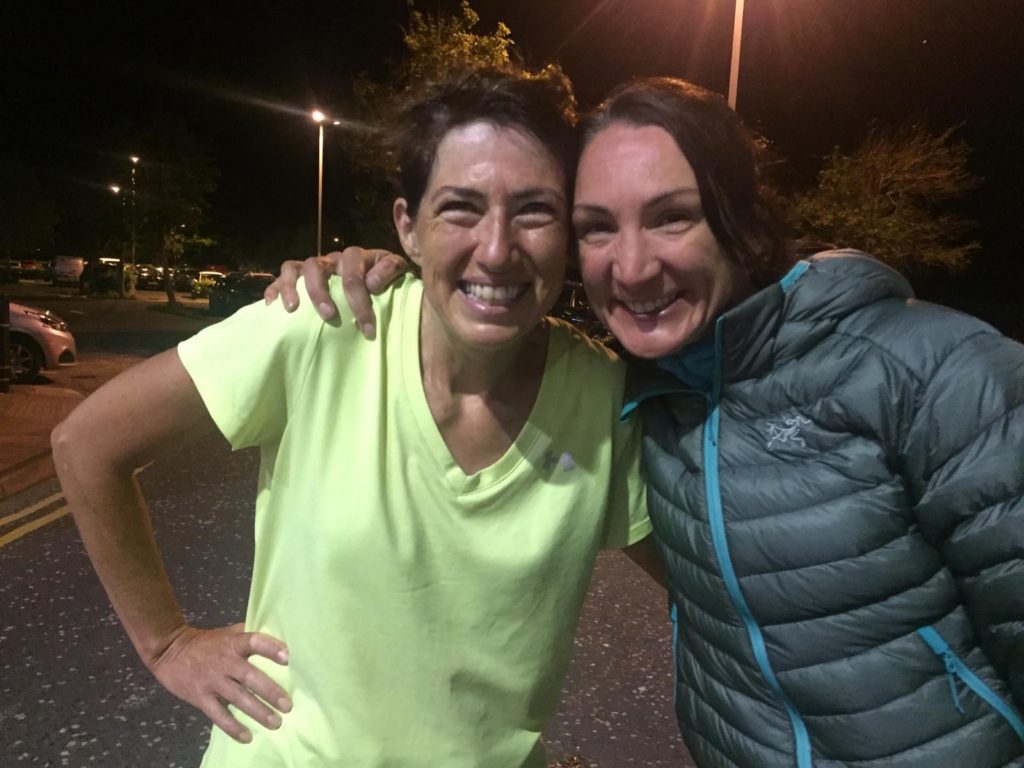 Support
Organizing support can be the hardest thing, the logistics take a lot of time and effort. I was lucky that I was able to get so many supporters. It was a privilege to spend time with such amazing mountain runners who are there to help and support you. I had Mourne runners, Dromore AC, Nelson's running group as well as BARF helping out. My best memories are of everyone who supported to the highest level in both attempts, I was so blessed.
I wanted a dry sunny but cool day for my next attempt and I got the best day, cool in the morning, and sunshine in the afternoon with a cool breeze and the longest day to boot.
Section 1: 5hrs 24mins
Jackie Toal and Steven Morgan ran section 1 with me as they had the first time, starting at 1am. After my failed attempt I wanted to go slower and not push as hard yet somehow we ended up slightly faster up Donard. The sunrise was so beautiful. I wasn't feeling the strongest, I had been worried that four weeks might not have been enough to recover from the 54 miles and 6000m ascent I had done, this lack of confidence and sense of not being strong enough persisted, it was hard work and I was walking where I would have run before. We surprised campers in a tent at the top of Binnian.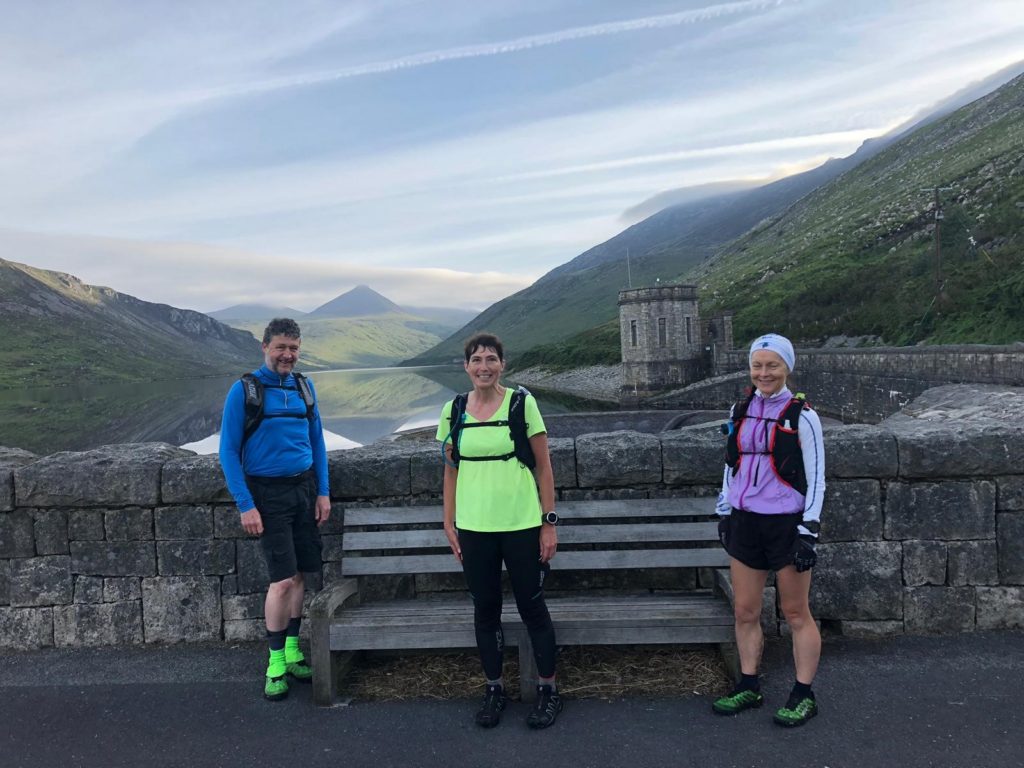 Section 2: 3hrs 12mins
I had porridge at Silent Valley where Sam Trotter was waiting and off to do the second section. We disturbed someone bivvying out on the top of Doan. I was happier with our line to Ben Crom, little things like that cheers one up. Whilst running to Muck summit a voice said, "keep going, you're going well", it took me a minute to locate the voices, it was Mourne runners on the other side of the Mourne wall doing the Spelga Skyline recce, I asked about Steven, Ricky and Ciaran (they had completed the Rankin Round the same night as my failed attempt) and I was told they were behind and would be coming soon. My run down to Muck was fast as I was eager to get to my support team, I was treated like a queen and was amazed at the care of Steven Wallace helping me with my shoes and socks, that was a first, this enabled me to eat my vegetable soup.
Section 3: 3hrs 38mins
I was so happy to be running with Aaron Shimmons, Stephen Wallace and Dominic McInerney, such mountain pedigree and previous completers of the Rankin Round, I was in very good hands. Clifford Morrison had been there for me at my last attempt and was there again to do part of section three. It was great to bump into Steven Bickerstaff and Ciaran whilst making my way to Eagle, I was able to personally congratulate them on their completion of the round four weeks ago. The craic was mighty and even though I didn't feel strong the guys lifted my spirits and delivered me safely to the Slieve Martin Col where I was meeting Denise Mathers who would run section 4 with me and my old friend and BARFer Ian McCullough.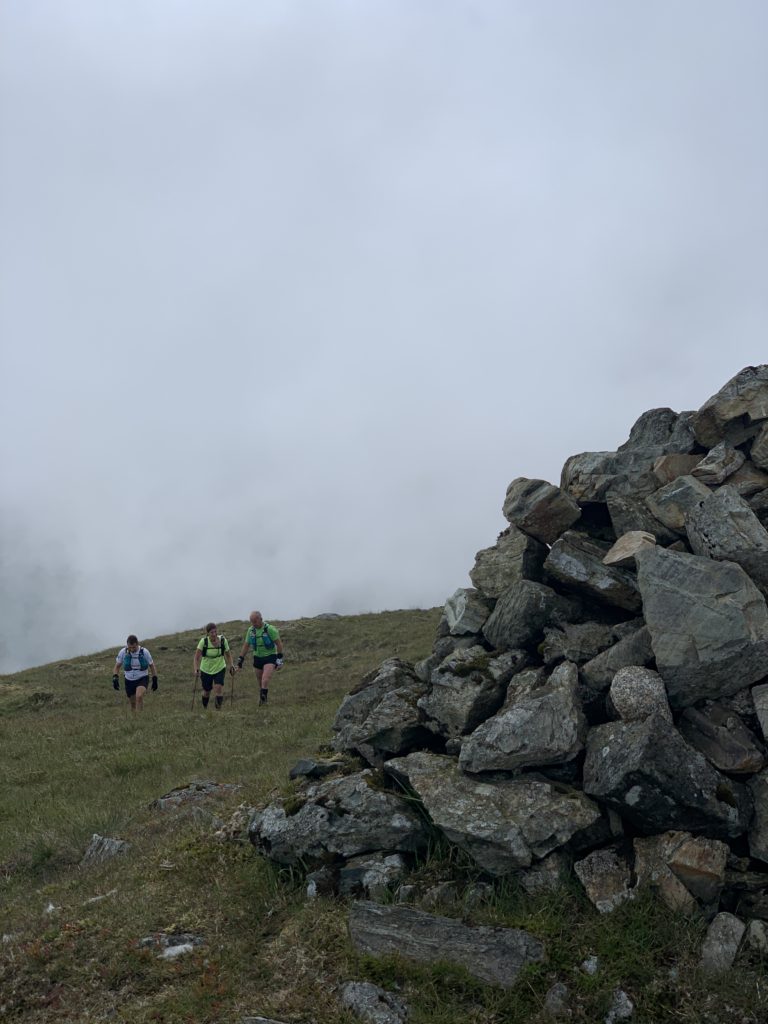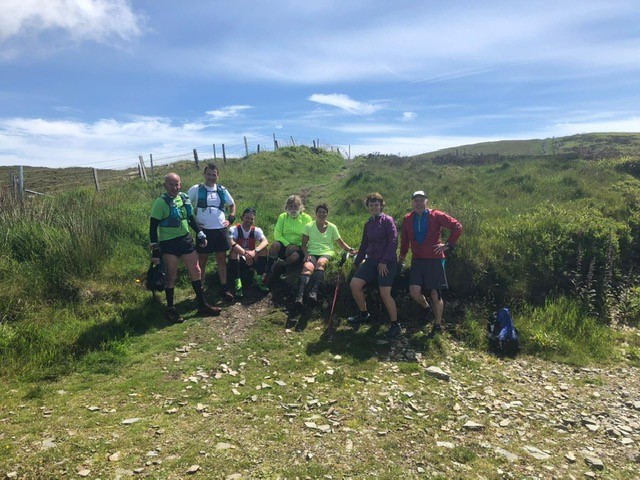 Section 4: 4hrs 13 mins
The sun was coming out at this point which always helps. I now look forward to this section as Crenville always defeated me in the past. The tussocks and waist-high grass, it's impossible to stay upright and the grass had grown so much in just four weeks! Denise on a previous training run had shown me a dream line off Crenville that made such a difference then we were on mountain bike trails for some of this section and my wonderful husband who had been supporting me at the support points rode by on his mountain bike. He drove 120miles that day, ferrying support runners back to their cars. Denise looked after me so well, she took my bag, fed me and gave me first coke of the day, I had been avoiding caffeine after the last failure. She and Ian were so encouraging getting me up the horrid climb of Cock mountain. At Slievenamiskin Denise could see the chippy van was parked at Spelga, oh I craved a sausage supper, no phone coverage so Ian ran on and a sausage supper with lashings of salt and ketchup was waiting for me as the next supporters Aaron again and Aine McNeill got my gear ready for the next section. I was happy, the sun was shining. Gareth one of Rankin round committee was there to cheer on and I felt ok, no palpitations, I could do this. I missed my good friend Taryn as she had been there for me all day on my first attempt and had done section five with me when I had to pull out, she was so good then and I was sorry she wasn't there this time, I felt I had let her down and wanted to do this for her, though she had promised she'd come to the finish. She had other commitments that day supporting Eoin Keith in his 24hr Energia run.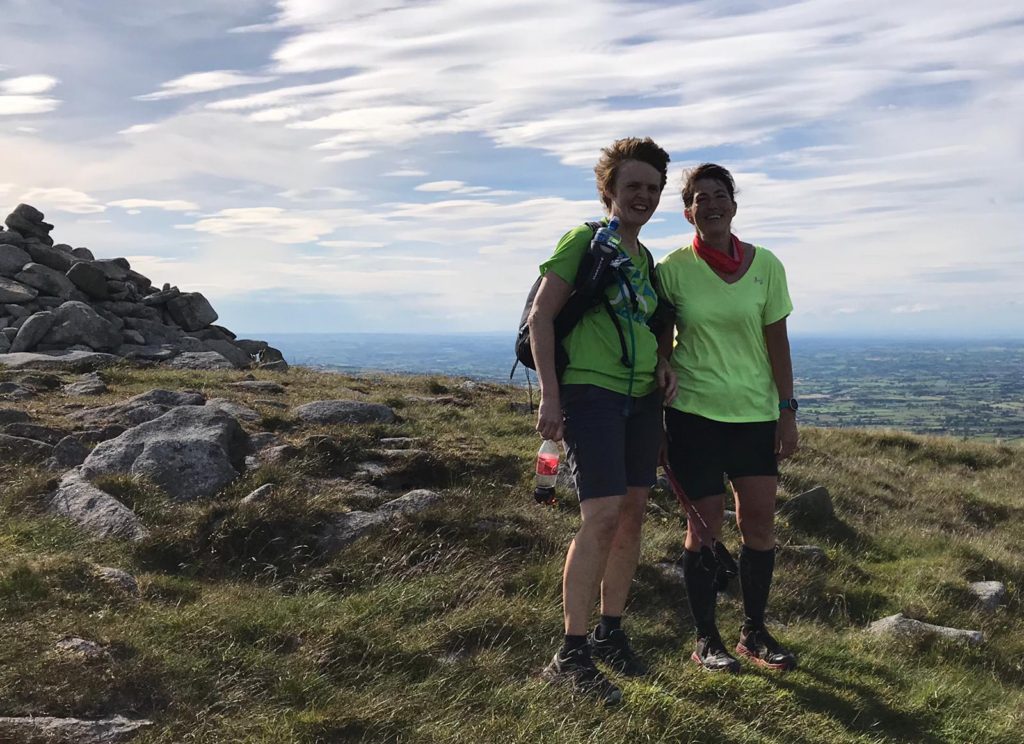 Section 5: 5hrs 19mins
This was another joy as I got to know Aine better, she was so attentive and caring and the conversation helped that long section to pass quickly. It's weird not having a pack and getting water and food from others.
Aaron kept the show moving, his lines were great and I needed his encouragement at this stage as everything was hurting, he lent me his poles which were stronger than mine. Also, there was a fault with my head torch but Aaron had a spare one. Another joy was this figure at the top of Meelbeg, calling out my name and skipping down the mountain, it was Joanne Curran.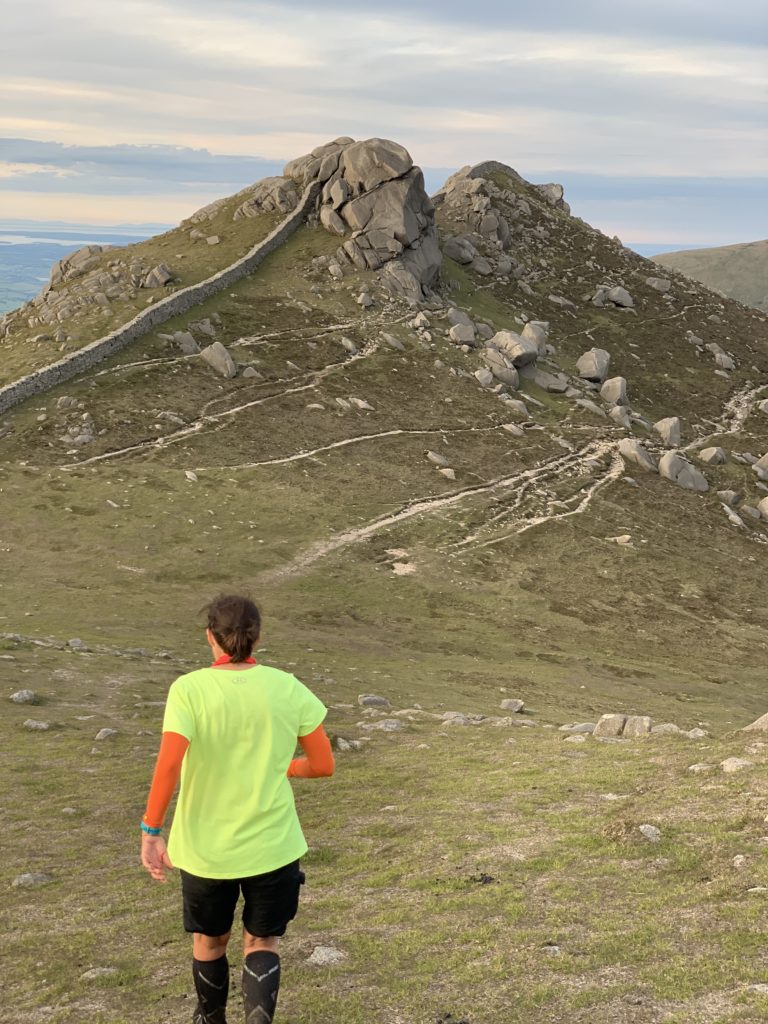 At Commedagh David Glass and Ian McCullough again showed up which was nice, that ridge is long in the dark, normally we run down it in joyful abandon but not tonight. Then Stephen Wallace showed up again with more encouragement. Eventually, we got to the car park, friends starting clapping and shouting, I was starting to get emotional running towards that arch was the most amazing feeling ever. Taryn was there with the biggest smile on her face, so happy for me.
Ricky Cowan was also there the oldest completer, we had a photo taken of the oldest man and the oldest woman to have completed the Rankin round. I had done it, and I had been so blessed with my support, I have so many memories of the little kindnesses which make me smile.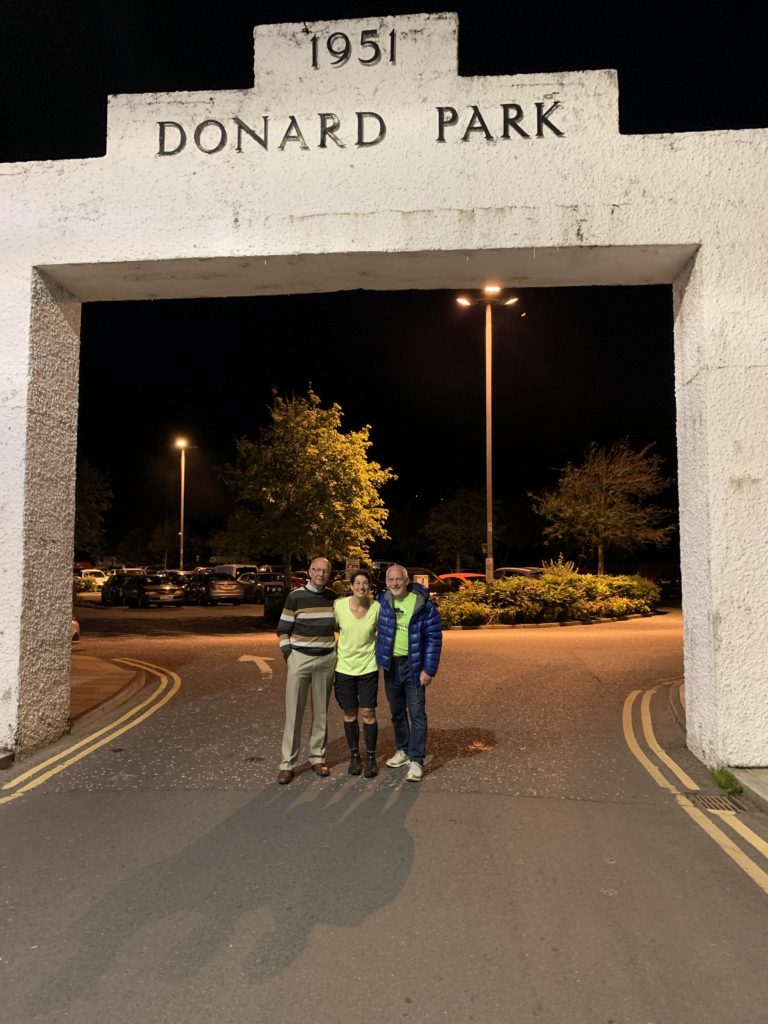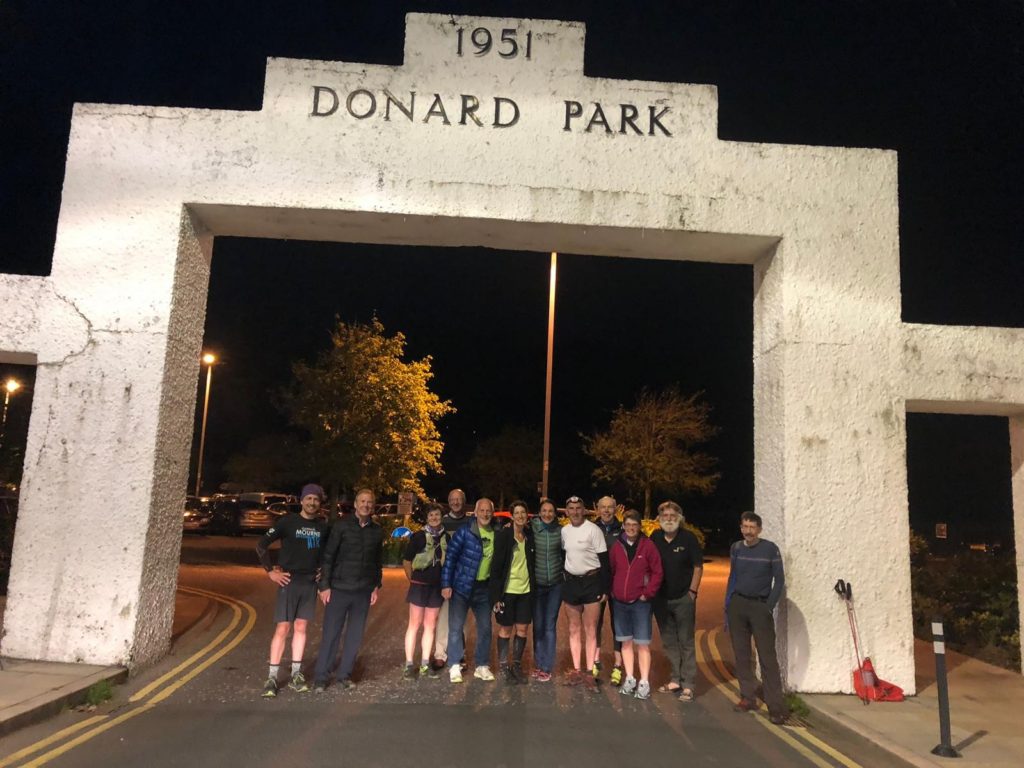 Big thanks to Rowan and Eddie from Primal tracking for providing the tracker.