On Sept 7th 2013, a group from BARF (Belfast Association of Rock climbers and Fell runners) organized a relay run around the proposed route of the Denis Rankin Round, to test the course and timings, make a final decision on peaks to be included and order undertaken, and to check the feasibility of the challenge.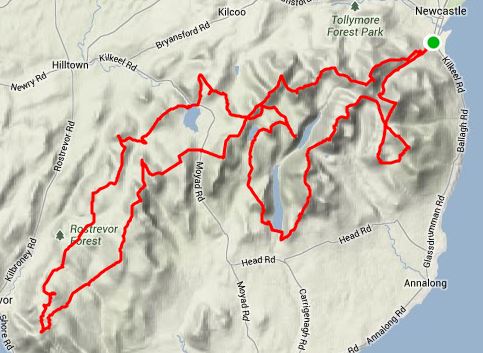 Despite atrocious weather for most of the route, the relay was completed in 23hrs, 13min and 22 sec, with a GPS measured distance of 89.86km and a total of 6137m of height gain. Given that some unnecessary distance was covered circling around a few of the more obscure tops in thick mist and/or darkness, a more efficient route is possible.

The times below are approximate and include rest and re-fueling stops at changeovers.
Section 1 – Newcastle to Silent Valley
Started 05.00 and finished at 10.45 or 5hrs 45min
Completed by Gareth Boreland,Dave Evans,Nigel Hart, Gerry Kingston, Martin Mullan and Jacqueline Toal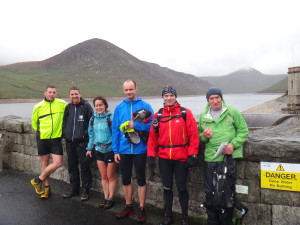 Section 2 – Silent Valley to Deers Meadow
Started at 10.45 and finished at 14.30 or 3hrs 45min
Completed by Dave Ewart, Gerry Kingston, Martin Mullan and Norma Rea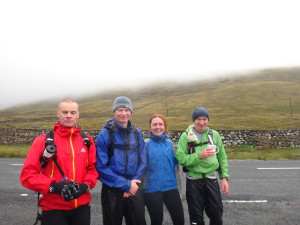 Section 3 – Deers Meadow to Slieve Martin
Started at 14.30 and finished at 18.15 or 3hrs 45min
Completed by Gerry Kingston, Kathleen Monteverde and Gareth McKeown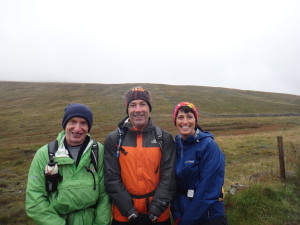 Section 4 – Slieve Martin to Spelga
Started at 18.15 and finished at 23.00 or 4 hrs 45min
Completed by Garth McKeown and Aaron Shimmons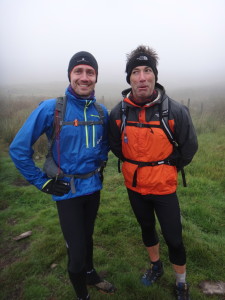 Section 5 – Spelga to Newcastle
Started at 23.00 and finished at 04.15 on Sunday 8th Sept or 5hrs 15min
Completed by Jim Brown, Aaron Shimmons and Dawson Stelfox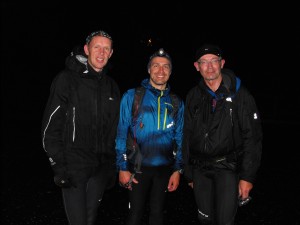 The GPX log of this course recce can be viewed here on Strava.