After 6 months of map studying and countless hours and kilometres of recce's, I finally made it to the white arch of Donard car park with 20 minutes to go before I was to set off. I'd chosen this date a couple of months ago based on moonlight and personal commitments, and fortunately for me the weather was due to stay clear and mild for most of the next 24 hours. I was running solo and unsupported, meaning that whatever was in my backpack at the start was all I had for the entire challenge. So before leaving Dublin I had checked and rechecked my kit and supplies, and had the pack ready to go on my shoulders before getting into the car. On arriving in Newcastle I got changed and ready, and took a short walk with my brother Gerard. During the walk I realised how mild it actually was, so after a bit of second guessing, and with 2 minutes to go I stuffed my long sleeve into my backpack and put on a short sleeve cycling tee and ran to the arch. After a quick photo and countdown I headed off, and as soon as I entered Donard Forest I was glad I'd swapped top, as it was really warm.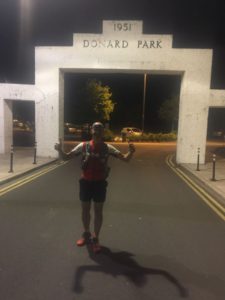 I purposely took it slow and steady along the Glen River trail, letting my muscles loosen up and my heart rate stabilise naturally. Because I was running without logistical support, and on account of the recent dry weather, I'd set myself a rule – to not pass any water source without taking a drink or topping up a bottle. With this in mind I stopped for handfuls of water at each rivulet along the trail. Once I'd crossed the river and was climbing the steps I turned to look back over the lights of Newcastle and it was a great view, the sky out to sea had light in it and across from me Donard was casting a moon shadow along the flanks of Slieve Commedagh, so I turned off the headlamp and savoured it all for a minute. After this brief stop I quickly reached the saddle and followed the wall to the summit. I noted the time and turned for the descent, only to find a lone, dome tent tucked in beside the wall. I resisted the urge to holler "Get up", and passed by silently, keeping a bit out from the wall for easier footing on this steep, technical, and quite long descent. At one point again, I stopped briefly, turned off the headlamp and looked over the clear mountain silhouettes across the other side of the Annalong Valley and the reflection of the moon on different areas of water below and in the distance. I'd recce'd this section the previous Saturday night and although it was wild and stormy then, it was equally beautiful.
With excellent visibility I made swift progress up and over Chimney Rock, through the heather and boulders and onto the trail across to Rocky. On the way I stopped at Spence's River, took off my shoes and washed the granite grit and bog from my socks, and had a drink. After a fast climb and descent I made slowish progress across the Bog of Donard, which in spite of being very dry, was still a tortuous, zig zagging, up and down trail that forced a walk after every few paces of running. Before long though I was on the rocky but excellent single track of the Brandy Pad, which made for very enjoyable running, against a slight headwind. This brought me to Slieve Beg, where after noting the time I stopped for a look down the night-time abyss of The Devils Coach Road (no going back if you mis-navigated there!). I had anticipated civil twilight at this point, but I was ahead of  my schedule and was fortunate that there was a good trail to Cove. Unfortunately though, as I climbed Cove the clouds closed in and I was enveloped in thick mist. I made it to the summit O.K., but missed my line off a bit, before veering to my right to find it 200 metres further down. Situations like this are where good recce's pay off. If you miss a line or trail you don't panic, you have a good sense of your surroundings and an instinct of where to go to get back on track. I followed the trail over to Slievelamangan, and as I was picking my way down through the boulders daylight arrived and I was able to turn my headlamp off.
At the trail crossroads I stopped to pack away my headlamp and had a small bite to eat. One of the benefits of carrying all your supplies is that you can eat whenever you feel like it rather than when it suits a crew stop. After following a good trail to Binian North Tor, and finding a water source en route, I made my way to Slieve Binian where I got a nice surprise. Before the summit I passed a little tent village, as well as a person bivouacking in the shelter of a rock. Then as I got to the summit I met a photographer called Johnny, who was all set up to capture the moon setting over Carlingford Lough. We chatted for a bit, as the clouds were thwarting his plans, then I started my descent, and once I got below the clouds I got the most stunning view of the low farmlands from Carlingford to Kilkeel, against the crystal clear backdrop of the Irish sea. If only Johnny was here!
After Wee Binian my descent to Silent Valley was slowed a bit at times by high ferns blocking my view of the trail underfoot. I had recce'd a couple of routes up Slievenaglogh but even as I started the climb I wasn't sure which to take. Finally I opted to follow the wall westwards before turning north east with it to the summit. This avoided the high ferns and boulders of a direct line, and also the floating mattresses of bog and marsh of the shorter route. I'd texted Hazel an update from Silent Valley, including telling her that I felt like I'd love a nap. I was feeling snoozy starting the climb, but thankfully the wall is flanked by Fraughan berry shrubs, so I stuffed my mouth full of them all the way to the top. I'd say I lost 5 minutes picking and eating berries, but it was worth it. After this I felt wide awake again and made my way towards Lough Shannagh along the torturous loose rubble trail, before taking a good line up to Doan where I met an English runner out for a pre-breakfast run. He'd told his wife he wouldn't be long but had already been 3 hours. We've all got carried away like that! After crossing the Ben Crom River I left my backpack and tee shirt on the ridge trail, for a free run to the summit and back, then followed the river towards the trail around Slieveloughshannagh. This is a marshy area full of hags and heather and is slow going. As I was crossing here I heard a couple of people yodelling from the summit of Doan, and knowing they wouldn't be able to see me I hollered back "Get off my mountain" for the craic. I then picked up the high trail to the Mourne Wall and up Carn, cut a nice corner off the saddle and trotted up and over Slieve Muck and down to Deer's Meadow, arriving 40 minutes ahead of my expected time.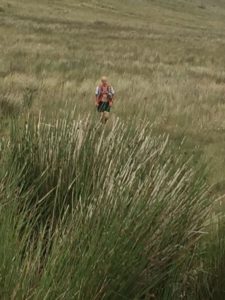 I'd planned on refilling my bottles from a road side gully here but it was bone dry, so I pushed on up Pigeon Rock, feasting on Fraughans on the climb once again, knowing that I had the Rowan Tree River on the other side. However, after a quick and easy up and over I discovered the river was dry, and all I had to refill from was a trickle over a slimy green rock. Figuring Windy Gap would also be dry, and that the next safe water source was Yellow Water River, I filled two soft flasks as well as my main bottle and headed up Slievemoughanmore, leaving the wall early and taking a good line to the summit cairn, and another one to Wee Slievemoughan. To avoid too slow a traverse of the hags and heather I took a short, straight line to the river, followed it to Windy Gap, and summited Eagle and Shanlieve without any fuss. From Shanlieve I managed a spot on navigation of the hags and granite trails to Finlieve, instinct and recce's allowing me to constantly find the right route through first time.
I left Finlieve for the forest corner, hoping to spot a dry route through the Rowans as I descended, but to no avail, so I just walked across this to save energy, before entering the forest and running the trails to the flank of Slievemartin. I had planned on heading direct to the mast and over to Slievemeen, but got pulled off line by following a good trail, so continued to the west of the mast, past the stile and on over to Slievemeen. At this point it was getting a bit nippy as the clouds were blocking the sun and a bit of wind had come up, but I was still running topless and was warm enough. As I climbed Slievemartin I noticed a family, with the mother chastising a child to smile for a photo at the trig point, even though she was freezing. She asked me was I not cold, I said "no, I'm moving fast" (well relatively, after 11 and a half hours). Once over the stile I lay on my back on the grass with my feet raised up against the wall, and had another few streaky rashers and jellies, before running down to the forest, past a half eaten sheep carcass, and up to Crenville summit.
The descent from Crenville was painfully slow and cumbersome, over waist deep grass and baby's heads, until I reached the forest trails where I got into a good stride and ran fast to the start of Slievemeel climb. When I'd recce'd this ascent there seemed to be a trail from the mountain bike ramp to the summit, but now, after a lot of growth, it was a tough climb through high heather and grass, only occasionally mitigated by a berry laden Fraughan bush. And as if the climb wasn't frustrating and slow enough, the descent was doubly so, over the same terrain. The only positive aspect of travelling so slowly was that when I disappeared into a three foot deep bog hole, I was walking rather than running so I didn't hurt myself.
Eventually I reached the runnable trails of Kilbroney Red Bog and picked up some lost time to Yellow Water River, where I made a pit stop to remove my shoes and rinse my feet, fill bottles, have a dunk and a few sweets. From here I followed a really lovely forest trail to the base of Tievedockaragh. Once I passed the summit cairn I got a good stride going on great trails over Pierces Castle, around the side of Tornamrock and onto Rocky Mountain. I dropped from Rocky almost straight down the way I had come up, and picked up the Mourne Way and followed it to Hen Track. Then it was time to tackle Cock Mountain, a tough mother! It's a steep climb of 250m over a distance of about 1 and a half kilometres. All covered in grass, heather, shrubs and rocks. I aimed for a trail beside a rocky ridge back, but got fed up with the slow climbing, so changed tack to contour and gradually gain height towards another trail I knew of. But I got fed up with this too, so opted again for the direct approach, finally seeing the top round out after over half an hour.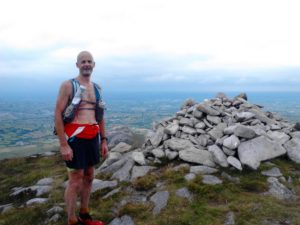 To my surprise I also saw a man running towards me, and calling me by name. It was Gareth McKeown, one of the Denis Rankin Round Committee members. He'd guestimated my splits and come out to run a bit with me which was a great gesture, and the run along single track to Slievenamiskan, and on to Spelga flew by as we chatted. The slow going around Rostrevor had reduced my time buffer and I arrived at the dam just 5 minutes ahead of my expected time. Hazel and my two sons, Ethan and Kaelem were at the car park to see me for the first time, and I stopped for ten minutes for a chat, while I had my break and applied some vaseline to my back, which was chaffing from wearing the backpack with no top on. Whilst stopped I got talking to an older man who was out with his invalid wife. He asked what I was up to and when I told him the jist of it, he recounted that he had started walking the Mournes 50 years before, and how you would barely meet another person back then. Then he said the worst climb was always Cock, and I filled him in on the brutal climb of it I'd just done, and it was nice that we could empathise with each other's experiences on the same mountain, decades apart though they were.

Feeling a bit cool once I'd stopped, I put my top on, got myself ready again and said goodbye and thank you to Gareth, said goodbye to Hazel, and headed up the river-side trail towards Spaltha with Ethan and Kaelem for company. After a hundred metres they turned back down and I continued on, but made a pretty big navigation error. My route was to turn off the trail based on a landmark across the river. Not paying attention to how far I'd come as I talked to the lads I mistook a similar landmark for mine, crossed the brook and started my climb. I thought the ground didn't feel familiar but continued and once I got to the top I knew why. I had turned way too early and was closer to the Splega summit than to that of Spaltha. Although it was relatively flat and quite runnable to the cairn, and in spite of knowing the time it would cost me, I walked across to Spaltha. However, after that mishap, I took a great bearing and contour, and picked up the trail to Slievenamuck quite low, which was a good boost to me. I even managed to run past the summit by a few metres, before turning back, noting the time, and taking a direct line for Ott Mountain summit.
Hazel knew where I would cross the road, and was waiting again to say hello. But this time when she asked how I was I had to tell her of my mis-navigation, and that I wasn't feeling quite right. Nothing major, just a dip since she'd seen me at the dam. A bit zonked and burpy in my tummy. At this point the weather started to change and before I climbed the fence for the ascent of Ott, I put my jacket on and my hood up against the increasing wind and rain. I took it handy enough here, letting my body right itself after its little setback, and after I'd summited I stopped for a quick chat with a lad walking a gorgeous little terrier along Ott track, before making my way to the stile, and the start of the wall route to Commedagh.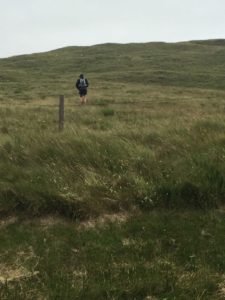 I was feeling myself again during an easy climb of Slieve Loughshannagh, staying in the lee of the wall, for protection from the squally wind and rain. At the summit I hopped the wall to reach the cairn, then hopped back over and made for Slieve Meelbeg. I was feeling strong at this stage and felt that finishing wasn't an issue, and that I could get close to my original target time. At the start of the climb I stopped to change my phone battery and to apply vaseline to some more chaffing. Even though it was windy and raining, I wasn't feeling cold, so I took my jacket off and set off for a good push to the summit, where again I hopped the wall for the cairn before making good progress to Slieve Meelmore. However, when I reached this summit I had to scratch my head a little. On recce's I'd left the summit cairn and passed through a large gap in the wall. With the wind and rain all around me and a decidedly solid wall in front of me I was literally stopped in my tracks. I wondered was I not at the summit, but caught a glimpse of the northern summit tower further along so knew that I was. But where was the gap? Looking closely at the wall I noticed a big area where the rocks were not as weathered as the rest and I figured it must have been repaired since I was last up here. So I hopped the wall again and yes, there was the boulder field I was looking for. Actually, hopping the wall might be an exaggeration…..its 7 feet high and 3 feet thick!
A month before my attempt I'd decided that rather than dread the big climbs late in the Round, I would look forward to them, and take their bagging as the real challenge in the day. And now I was trotting up and down the Meel's as if I was out for a short run, and I was chomping at the bit to hit Bearnagh. The only concern I had was the edge of the Bearnagh Slabs, which is an almost vertical wall of smooth granite. With the wind and rain this would be treacherous and a slip would mean serious injury or death. I wanted to traverse them before the start of the wall but I knew it would be risky, so on the run down Meelmore I kept checking for alternatives but didn't want to give in either. I decided to head for the slabs until I felt it was unsafe, finally deciding that I felt fresh and alert enough to attempt a crossing. I stopped for a body check, set myself some rules and proceeded with confidence but caution, and with that attitude the crossing proved quite easy. Buoyed by this, I climbed towards the summit tor without feeling much effort, and it quickly appeared out of the clouds like a ghost ship at sea.
From here on my running got better and my legs and body felt stronger, my mind more alert than earlier in the day. I don't have an explanation, but I powered down Bearnagh in big leaps and bounds, enjoying how easy it felt to run across Hares Gap in the wind and rain, and on up Slievenaglogh without feeling an ounce of tiredness. I texted Hazel the time from the summit, not knowing my overall time but knowing I was making up a lot of minutes as I ran. The only section of the Round that I hadn't recce'd was from Slievenaglogh to Commedagh, but although visibility was poor, the route was easy and I was able to run all of the uphill's except where it was particularly steep, when I would change to a fast power hike.
At Slieve Corragh I once again texted Hazel the time that I'd summited so that she would have an idea of when I would actually finish. Feeling as if I was at the start of a 20 K race, I ran and power hiked the final ascent. At one point I noticed the bag of revels chocolates was pushing my map out of its pouch, so I decided the best place for them now was in my mouth. Four at a time! As I was stuffing my face, the stone workers hut came into view through the swirling rain, so I spat out what was in my mouth, tucked the bag into my pocket and picked up the pace to the gap in the wall. But then nausea hit me and I got sharp pains in my stomach, so halfway to the cairn I bent over and put my fingers down my throat and immediately felt better. I noted the time, texted Hazel, put my headlamp on, emptied my remaining water, made sure everything I was wearing was tight for what I knew would be a rapid descent, over mixed terrain, to the finish, and then I ran as fast as I could, reciting to myself "Fast, but not reckless. Fast, but not reckless" as I ran.
I put my headlamp on for two reasons. Secondly, in case the forest trails weren't bright enough for speed. But the main reason was communication. I had told Hazel and the lads to stand at the globe on the seafront 3 kilometres away with a powerful flashlight, and given them a photo of Commedagh with a line of my route marked on it. Even though it was bright still, I had my headlamp on strobe and kept looking up in spite of running fast over rough ground. Then I saw it, the strobing at the seafront. I stopped and turned my lamp off. The seafront went off. Then I put mine on constant. The seafront went constant. Then we both strobed again. This was a brilliant, personal connection at the end of a great day, across all that distance, my three most important people were sharing my final descent with me. I left my strobe on and continued the descent at the fastest I'd run all day, actually, the fastest I'd run in months and absolutely loving it.
Then just outside the forest I landed awkwardly and rolled my foot. I barely broke a stride though and shouted out loud "**** it. It's nothing. Keep going". And I did. Just as fast. Once in the forest and on bike trails I picked up the pace again and dashed along easily, enjoying the feeling of freedom and exhilaration. I then cut through the trees and on to the Donard Forest Trail beside the Glen River. This is very tricky and technical terrain, a combination of rocks and tree roots everywhere but I was breathing huge deliberate breaths, pumping my arms while my brain hotwired my eyes to my feet without my intervention, and I practically floated over it all, adjusting my line for trees or people without giving it a thought or slowing down.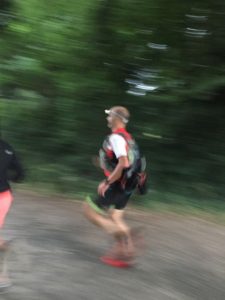 I was calling Ethan's and Kaelem's names as I neared the forest exit, as I'd challenged them to a race to the arch and I didn't want to fly past them and be accused of bad sportsmanship. I came out of the forest faster than I would ever have imagined possible and they were there along the fence with Hazel, and we raced down the track and across the car park, me pumping hard and breathing deep as they tried to beat me. And I touched the arch with both my sons at my side, and I turned around and Hazel was there for me too.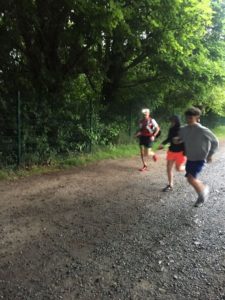 What started 19 and a half hours earlier with a solitary, controlled, safely paced run, finished with hours of beautiful, invigorating running in appropriately wild Mourne weather, topped off with a uniquely personal and moving finish in the company of Hazel, Ethan and Kaelem. I couldn't stop smiling and saying I don't know how that happened, I have never felt on such a high, my body and mind surprising me with what they can do, with what is deep inside, hidden even from my own awareness. But if I'd experienced all that and not shared it with the people I love it would not have meant half as much.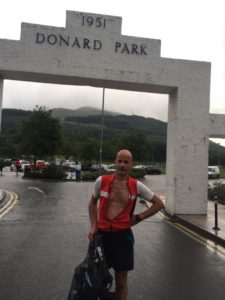 I love fell running, I love the mountains, I also love the people who live it with me and make their own sacrifices so that I can pursue my challenges.
I bought a Harvey's map of the Mournes at Christmas and started researching the Denis Rankin Round then, going on my first recce in late January. I had completed the Mourne Way Ultra in 2015 but had never been off the Mourne Way, or on any of the summits, so even learning the names of 39 of them in sequence seemed daunting. But bit by bit I ran The Mournes. Over months I travelled up and down from Dublin, running in places I'd never heard of, studying the landscape as I practiced navigating my way through it. I picked up snippets of local history which inspired me to look deeper into the heritage of The Mournes when I got back home. I heard the squeal of mountain hares for the first time, high up on Bearnagh, heard the call of unfamiliar birds at dawn along the Annalong Valley. I descended Donard one night in a fierce storm, where I couldn't see a thing and it felt like I would never reach the bottom, like one of those big open Australian mines. But it was amazing. Two hours later I was watching the sun come up over the Irish Sea whilst eating a tin of cold beans on the seafront, on a beautiful summer's morning. I navigated the Binian Ridge and scrambled over its tors for the first time in the middle of a storm with no visibility. On another recce I passed three sheep skeletons, one cow skull, and a horse skeleton on the same mountain! I learnt about the granite quarrying in the mid 19th century, about Victorian dovecotes and ice houses.
Taking on a Round is unlike any race. Yes you can race for the same duration in lots of events, but the preparation for a race will never send you off exploring the way preparing for a Round will. A Round is a very pure and simple mountain challenge; no entry fee, decide your own date, design your own route, bring what you want, and go into the hills. As I run alone the adventure is increased for me, with each recce needing to be a loop back to the van, meaning that they take me over areas which aren't even part of my final route. I completed the Denis Rankin Round, but before the actual day arrived, I'd amassed thousands of individual experiences and memories of the Mourne Mountains.
So I'd like to mention Denis Rankin, a man I had never heard of, but whose life inspired others to create the Round in his memory, and who ultimately led to all the memories I now have.