It's the early hours of the morning, it's raining heavily. At the entrance to Donard Park people can be seen struggling to stay on their feet. They seem to be neither co-ordinated nor aware of their surroundings, they are not even dressed appropriately for the conditions that we have been met with over the last few hours, and which seem set to continue for the foreseeable future. This however is not a collection of Rankin Round runners, thankfully instead it is just another weekend for the young people of Northern Ireland. Granted they have been doing their own rounds, however it would seem their priorities are entirely different to my own this evening.
Tonight you see I am to join with other NIMRA members for an attempt at the Rankin Round. I had harboured ambitions of doing the round for some time having become aware of it a couple of years ago. I seemed to struggle to get the time to properly recce the route and hence it appeared to be just one of those things that may remain aspirational. Therefore, I was hit with mixed feelings when I heard of an attempt being organised by Gerry Kingston of BARF, and that volunteers were being sought for either support or full attempts. The only thing now standing in my way, from at least trying, was me myself! Excuses were easy and plentiful, too busy, haven't been running much, the attempt coincided with one of my daughters' birthdays.  A quick pros and cons table showed any attempt by me to be foolhardy, so the answer was obvious, contact Gerry and get signed up, cram in some greatly accelerated training (based around mind numbingly boring laps of the Cave Hill), buy a few Soreen and away we go!
As I sat alone  in Donard Park, rain pounding off the window of the car and less than an hour to go, I began to think that perhaps the attempt had been called off, soon enough a steady stream of athletic looking types started to arrive and prep with waterproofs, it was on after all!  About a dozen or so of us gathered under the arch for the obligatory photo and then with neither fanfare nor fuss we were off, into the darkness at shortly after 03.00hrs for our attempt at the Rankin Round.
Donard was climbed easily and at a manageable pace which settled me, as I had visions of a bunch of whippets taking off at threshold. Coming off Donard towards Chimney however was more difficult due to the driving wind and incessant rain, which up until now, the reassuring bulk of the wall had sheltered us from. These inclement conditions seemed much worse if you allowed yourself to think that maybe this was what was in store for another full day, best then to just accept it for what it was, and allow chances are that local band 'D:Ream' were right when they said that 'Things can only get better' (Did you know that the very popular astronomer Brian Cox actually played keyboards in the band way back then, makes you feel old.)

D;Ream's mantra was correct, things did indeed 'get better', much better. The remainder of Section 1 passed without incident, legs still feeling normal and enjoying being back in the mountains. As we dropped down into the Silent Valley from Moolieve, you could just see the support team waiting with the drop boxes laid out in front of them.
A quick rice pudding and mini cheddars combo saw me ready to go again but it turned out that these checkpoints were a more leisurely affair than I'm used to. My principle is usually continuous forward motion, albeit slowly, but I tend to find this works for me and it is surprising how much ground you can cover whilst filling your face. This was a collective effort however, and I took the view that the whole would be better than the sum of the individual parts,  hence I kept eating and drinking like a child at a birthday party, Haribo included!
Once back out on the hill our group quickly got back into a decent rhythm. By this time, the sun was well and truly out and we continued to tick off the peaks at a steady rate. Unfortunately both Ronnie and Donal had a few issues and so our own group was down to seven and associated support. One of the strengths of the co-ordinated effort was that anyone who faced difficulty had either a coping strategy or an exit plan formulated for them. From time to time the radio crackled into life and we received news of the progress of the various groups that were out, it was good to hear that everyone was being well looked after, I personally took some reassurance from this, as I knew we still had a long way to go and that I too, may need to avail of similar services before the day was out.
As we crossed from Ben Crom to Carn, head down, plugging away, I looked up to see that the group had split over route choice, the majority of our group were heading off to the right, to pick up the path but not Willie 'the route sniffer' Marks, he was going direct. I decided to go with Willie as he was closer, and boy did this pay off. We arrived on Carn, with boosted morale as although we climbed a bit more, we covered significantly less ground. This let us take it easy up Slieve Muck whilst the rest of the group caught up as we started the descent to Deers Meadow.
Dropping into Deers Meadow reminded me of the section in the Bob Graham where you descend down to Dunmail, indeed the whole day reminded me of the Bob Graham or any of the other big rounds.
At Deers Meadow, as well as the organised support, my very own support crew of family had arrived which was a nice change. They quickly swung into action serving me soup, sandwiches and flapjacks in quick succession. The children took my pack and quickly replenished the essential fluids and my personal favourites, anti-cramp tablets! We got a quick photo with Madeline Rankin and said our goodbyes to our previous support runner before being joined by two fresh and very eager support crew.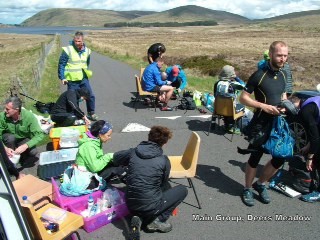 These boys were like two springer pups let loose for the first time, bouncing about between peat hags and generally enthusing about how great everything was. Although their highly excited attitudes did make you realise that you were now starting to slow a bit their sheer enthusiasm and motivation was not only impressive but contagious too. I found leg 3 a lot better than I had anticipated, the climbs were not too bad and the underfoot was generally good which made covering ground fairly handy. I remembered the area from a past edition of the Mourne Marathon which worked out well so I think subconsciously this helped too. Coming into the forest before Slievemeen our defacto captain Gerry Kingston asked to stop in the forest for a quick break. It seemed a strange point to stop, given the relative proximity of the next aid point, but stop we did based on a majority vote. Some of the group sat down and had a bite or two to eat, I decided to stay on my feet. I tend to struggle once my mind and body realise that an easier alternative is available, so I just pottered about in circles eager to get going. Up and away again, Slievemeen came and went easily before the handy trip back to the col.
At the checkpoint we received the bad news that Gerry had decided to call it a day. It was such a pity as he had been moving well and seemed in control. I actually felt a bit guilty at this stage, as I was having something of a renaissance and was feeling better than I had all day, however I reassured myself with the fact that it would not last. The support was once again very impressive and the remainder of our group were buoyed by the idea that we were now on the way home.
All fed and watered our group reassembled and headed off again to the sound of an ominous crack of thunder which was obviously just the precursor to a few big showers. Crenville was an experience, one which I would not be overly keen to do solo or in the dark! Thankfully my colleagues put their collective heads together and I think we actually made good time through this bit all things considered. Shortly after Crenville I started to go through a bit of a dark patch. During these sorts of events, I tend to be ok when climbing or descending but find the flat stuff a bit of a struggle. The rest of the group were quite happy clicking along at a pace somewhere around 8 to 9 minutes per mile, but I am afraid it was starting to hurt me. To make matters worse, we had to cross a couple of fence lines. Not usually a problem but when Phil Hodge is in your group you begin to feel it would only be fair if he had to go over a larger fence!  While I am struggling to find a way up, over the top string of barb and down the other side, Phil just throws the big leg over with about 2 feet to spare and just continues running again on the far side, different game altogether!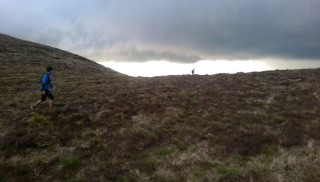 The old head space didn't get much better for the next while, the climb to Cock mountain seemed to take forever and given the shape of the hill it did not seem to be getting any closer despite the amount of mid shin grass I ploughed through, Phil was going really well, although the tall grass likely only just covered his feet. At the summit we took a couple of minutes and got a group photo before moving on. It is a strange feeling looking back across the Mournes and realising that just today you have covered all of the peaks within the panorama; on the other hand, it is also slightly disconcerting when you turn around and see what is still to come! Unfortunately or perhaps fortunately, in our case we could not see much, as dark clouds were forming and it was obvious we were in for some heavy rain. We cracked on for Spelga, the last aid, a change of clothes and perhaps some warm food.
Right on cue the full McCollam support wagon was in full swing, stew, bread and Coke has never been so good. I changed my wet clothes into dry gear which immediately got wet again given the hail that was now falling, and I consoled myself with the fact that the new gear was definitely a bit less wet than what I had been in. Changed and ready to go, it was now just a case of waiting for the off. What followed next was quite impressive. As I waited, I noticed a bit of a tremor coming into my hands. Within a few minutes both the magnitude of the tremor and the body parts involved seemed to increase dramatically until I was involuntarily shaking pretty much everywhere, much to my daughters humour. The wife on the other hand didn't find it quite as funny! Enter stage left Violet Linton, 'give it twenty minutes for the food to take effect and you will be grand, you look great'! It is this sort of matter of fact attitude, balanced with genuine empathy that appeals to me with this fell running game. Violet was very helpful all day and seemed to be everywhere, both her and the whole crew made my family feel very welcome, which was particularly good as one of my daughters was spending the most of her birthday inside a car that was just sitting in the rain.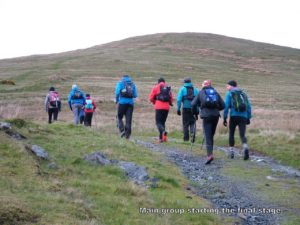 Out onto the last leg and my immediate plan was firstly to get across to the wall feeling ok, and secondly to stop this stupid shaking. Just like Violet had predicted, within half an hour all was back on track and we were heading for the Ott path. Crossing the road seemed like another big event, the next tarmac would be Donard in a few hours! Onto the wall, following the sneakily placed Ott mountain which I had forgotten about and switch the brain off, deploy plod mode and just get it done. Although nobody said much, I think we were all doing the same thing, everybody had just settled into their own zone and coped in their own way. The first couple of hills didn't seem too bad, but the descent through the rocks from Meelmore, and the climb up Bearnagh were the most difficult section of the day. We all huddled around the tors at Bearnagh and waited for our team to regroup before moving off for the last push through the Hares Gap towards the finish.
The beauty about this part of the round was that by now, we now knew we were going to make it, only something very cruel could prevent us all getting back. The climb to Comedagh was difficult but it was the last ascent and before long we were standing on the summit looking at the lights of Newcastle far below. All downhill from here, so with a second, actually probably by now a seventh or eighth wind we dropped what seemed, quite quickly, to the forest and onto a mountain bike trail. Anticipation of the finish nearly got the better of us and both Martin and Jackie took heavy falls on tree roots, how cruel would it have been if someone hadn't made it in from here. We decided we could probably manage to carry someone in but that it may not represent a ratified round. Best then to back off and make it in safe and well at the expense of a few extra minutes across this difficult terrain. A short time later we popped out of the forest and jogged the few hundred yards through the park and up to the arch that we had left more than 22hrs earlier. Another group photo and after congratulatory comments passed between the group it was all over. There did not seem to be much point hanging about so without a second thought I bailed into the car and joined the impromptu birthday party that had started at midnight for my youngest daughter.
As usual it is only after the event that you reflect more on what you recently completed. Even more so when every time you try to walk you get a sharp reminder from your leg muscles of what has recently occurred. I would like to thank my fellow runners during the day, although I did not know all of them at the start of the day, 22hrs of shared suffering forges a certain sort of bond. Also the support by NIMRA, BARF and my own family helped me to complete the 'Rankin Round', something that I was not sure I would ever get an attempt at.
I would definitely encourage anyone to have a go at this challenge, it is in the true spirit of what mountain running should be and is a fitting memorial to Denis. I know it is something I am pleased to have in my own palmares.