The Denis Rankin Round is a 56-mile run taking in 39 peaks in the Mourne Mountains with 6500 metres elevation and it has to be completed in 24 hours. It was created to honour the man of that name, a pioneer in mountain running in Northern Ireland from the 70s until 2013. The first time I had heard of his name was 2 years ago on my 40th birthday during the Hill and Dales when we went to do Moughanmore. Sadly a few years before, Denis had died while competing in the same race that we were about to do. I thought it was very sad that he had set out that night to do what we had been enjoying every Thursday at this time of year and failed to return. Now I'll never forget his name.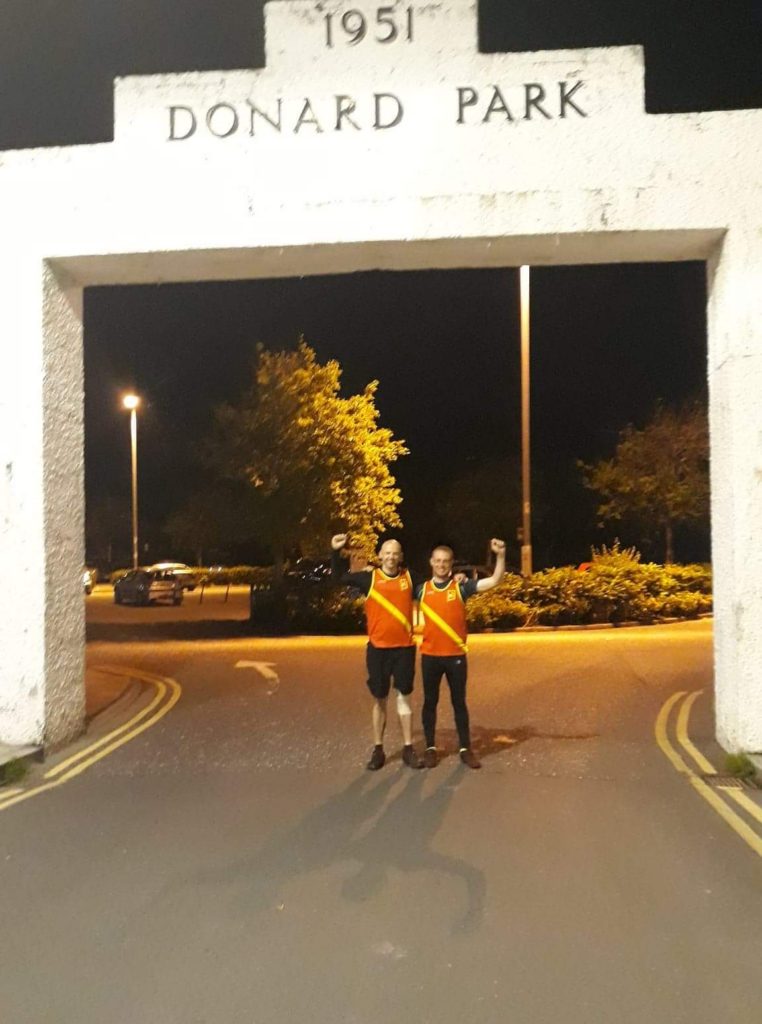 The Round had came up in conversation between Niall Gibney and I four weeks before and it just snowballed with various dates coming up such as next full moons, Summer Solstice etc but we decided on Saturday 29th June as the Hill and Dale season would be over but it would be before I started training for Dublin Marathon plus there would still be plenty of daylight and the grass would not have grown too high. We wanted to try Commedagh in the dark so one Monday night we ended up coming off the mountain at 12.30 saying, "right that's it, this is definitely happening!"
When you start this, you become obsessed and you read all the Denis Rankin Round Members' blogs, looking at all the different routes they took as well as any small thing might help . We organised trackers from Primal Tracking. Rowan and Eddie were so kind and helpful and really went out of their way for us. So the date eventually came and we were set – lists done, bags packed and sent to our support team. I told Niall I would collect him at 1.20 am for our 2 o clock start . I pulled into his yard and realised after a few minutes and texts that he wasn't awake. When I was able to wake him, he seemed dazed and slightly confused, but it turned out to be the only time I was ahead of him that day . No panic, we just started 15 mins later and I reminded him all day that his extra hour's sleep made the difference.
It was a perfect night, clear and still and off we went. We hit the forest and were met with the eyes of baby deer reflecting by our headlamps and we were just hoping there was no stag close by. I was feeling uncomfortably warm and sweating a lot and was glad to hear Niall felt the same. Our jackets came off at the top of Donard and I was slightly worried that if I was sweating now at 2.00 in the morning what would it be like at 2.00 in the afternoon. We made good time over Chimney and we were able to turn off the head lamps as we crossed the stile to climb Rocky. we continued onto the Brandy Pad, had a nice run over to Beg, Cove and Lamagan in that order We went off the side of Lamagan as it was quite runnable without the boulders . As we heading towards Binnian, we saw a photographer set up to take a picture of the sunrise but it didn't look like he would be in luck as it was quite cloudy. Our descent to Wee Binnian did not seem half as bad as it was on our recce just a week ago (things don't seem as bad second time round in my opinion). We met a few guys who were doing the Mourne wall Walk and had a bit of craic with them on the way down into Silent Valley arriving after just over 5 hours which was bang on our prediction.
The round is split into 5 sections but we didn't think it would be fair to ask anyone to meet us at 7am especially when the gates weren't even open at that time and in a few hours we would be at the roadside at Deersmeadow at the end of section 2. We followed the wall round Slievenaglogh to avoid the steep bouldered direct line then up the Hill and Dales route of Doan. I started to feel pain in the back of my knee but hoped it would pass. I was slowing and was conscious that Niall was going a lot better than me. We took the river route from Ben Crom to the base of Loughshannagh then followed the wall round to Deersmeadow and the end of stage 2. We were met there by Therese Ruddle who pulled out all the stops – deck chairs, tea, coffee, toast, ice, chocolate salty balls – all you would want. I thought, "I could just sit here and watch the Spelga Skyline Race passing through.." but no, it was onwards and upwards for us. Change of clothes, bellies full and my knee strapped and we were fit to go.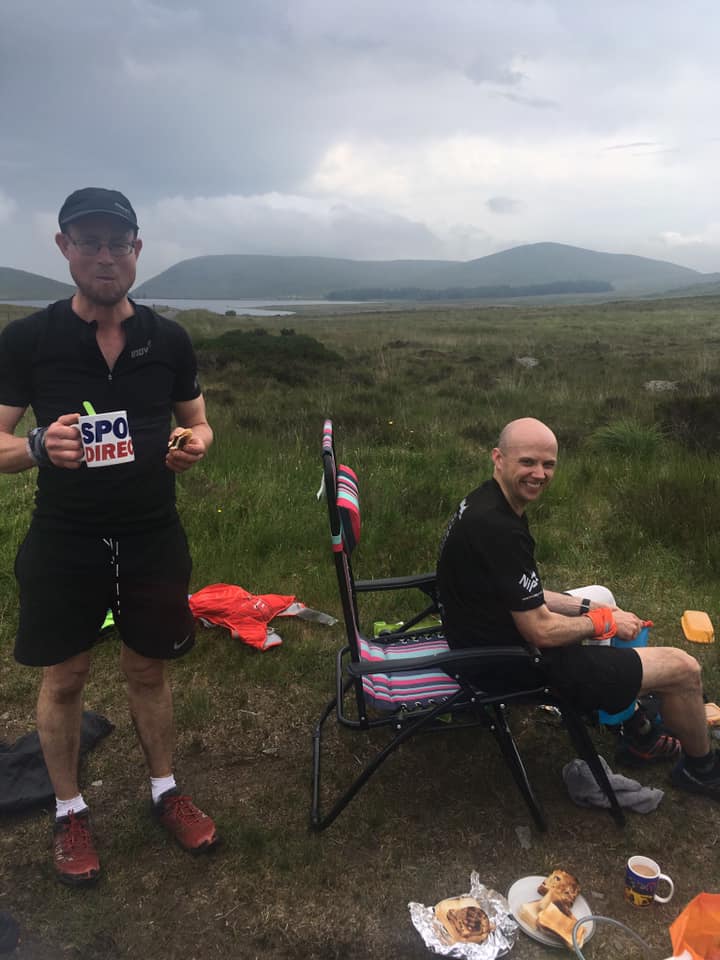 The second half of stage 3 is not nice at all . As we went up Slievemoughanmore, the mountain on which Denis died, I had small thoughts of quitting. I didn't feel good and even though the skies were dull and there was thunder overhead, I was sweating a lot and I felt I was holding Niall back. As we headed from Wee Moughanmore to the base of Eagle there was lightning then hail, but we were distracted by Seamus Lynch bombing down the mountain miles in front as part of the race. We gave a shout and he was able to give a quick wave . I had always wanted to see leaders run downhill as I am usually too far back. It was impressive! As we went up Eagle, Niall's alarm went off (he had set in for PM not AM).
We were soon on to the peat hags heading over to Finlieve. When I read some previous reports, people weren't happy about the hags but I didn't mind them and there was a bit of a breeze which cooled me down and I was starting to feel better. We had found on our recce that there is a tunnel between trees over to Finlieve. We weren't sure if they were planted like this on purpose but it worked for us. As we headed down towards the river we met Paul O'Callaghan who immediately asked if we were doing the Round as he said there is no other reason you would be in this area. He was on an anti clockwise recce as he had completed the Round clockwise 2 years ago. We headed up the quad tracks wishing we had a lift on a quad or even run over by one by that stage. We eventually reached Slievemartin and the end of stage 3. We were on the way back now.
Stage 4 – Crenville and Slievemeel will break your heart. Long boggy grass so you can't see where you are putting your feet and you could go down very easily. The only thing is you are going too slow to hurt yourself. The second half of this stage, my knee and feet were really holding me back on the descents . Niall had gone on a bit in the knowledge I knew where I was going and we had agreed to meet at Spelga at the end of stage 4. We took the Hill and Dales route from Tievedockaragh to Rocky then back on to Mourneway with a huge climb up Cock mountain. I was starting to look at the clock and doubting myself. By the time I was coming over Slievenamiskan I was feeling really sorry for myself then I heard, "Come on Daddy " from Kerry, Dillon and Ella and this was such a boost. I got stocked up again but couldn't really eat much. I got changed again and off we went for the fifth and final stage .
I was looking at the clock calculating the hours against mountains and thinking that I might run out of time. My descents were painfully slow but my climbing was good. Kerry and the kids had come up and met me from Ott carpark. I told Niall to go on and I was truly glad he did as I didn't want to ruin his chance of completion. I watched my son Dillon run down towards Ott carpark shouting back, "Are you serious…I am way quicker!" Haha if only he knew. I now knew I wasn't going to quit but I did doubt I would make it on time. I wondered had anyone completed the round but run out of time. This was not what I wanted.
I got a confidence boost after Loughshannagh. My descents were still poor but my climbing was still good. Over the Meels I talked to myself. Yes, you can do this, come on! Over the wall and I shuffled down the lesser wall to the base of big bad Bearnagh ! I usually relish the challenge of Bearnagh but not that day. I used the wall as a handrail and pulled and pushed my way up. I was happy to see Hare's Gap and was still doing calculations in my head but confidence growing. Darkness was upon me but it was simple, just follow the wall. I climbed strongly and I could shuffle in between. As I passed the spring, I knew there wasn't far to the top, then over the stile but there was further drama. The wind and rain had picked up and there was mist. Visibility was very bad and I had to use my compass properly for the first time ever to find the col. I was cold, tired and couldn't see, I just wanted off that mountain. I didn't want to come so close and not make it, then boom there it was! Happy moment. I wanted the path around the ridge, not the one over it. I was aiming for the Mourne Highline finish which we had done in the dark before. The mist lifted and I knew I had loads of time but I took the wrong path. I was at the side of the forest. I didn't know if I should try and follow the fence or try and go through the trees as I could hear the river on my right. I took my chances with the trees and got a nice path through and I was never so happy to see the Glen River path in my life. I shuffled down and was met by Niall who waited for me.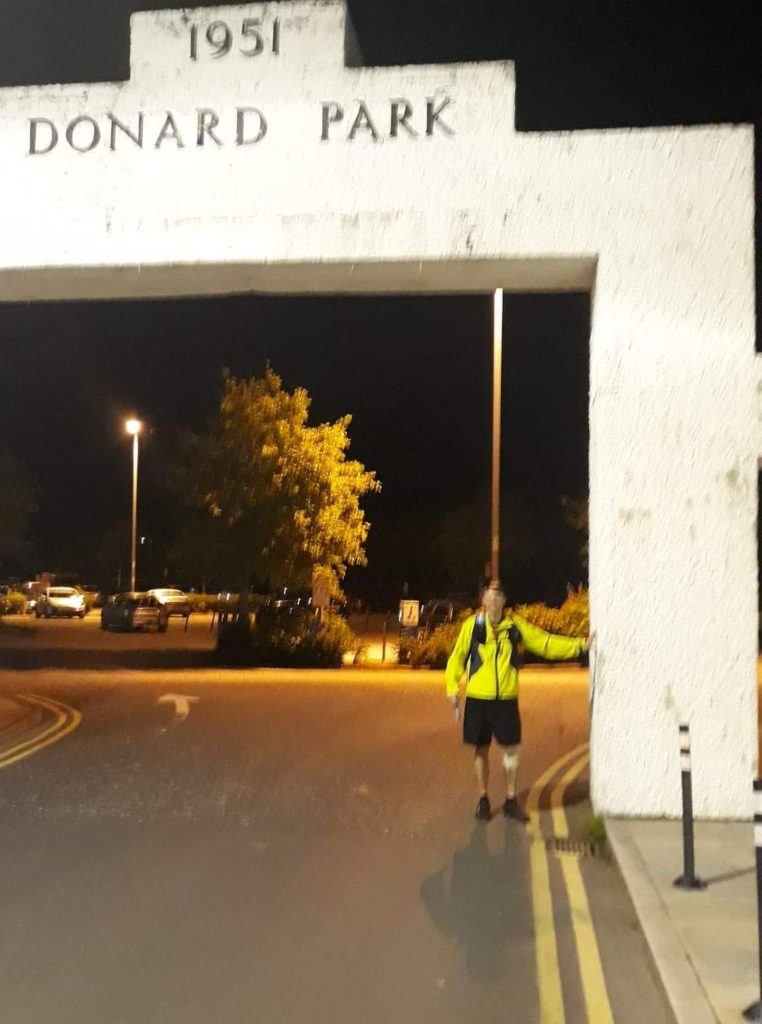 I hit the Arch a relieved and very happy man 22.41 in total. I am so proud of myself for completing this, and getting my name on the Members' list. I want to thank Niall. I probably only would have talked about doing it and it was his knowledge that planned our route. I want to thank Helen and Therese for their amazing support, Rowan and Eddie from Primal Tracking (you guys were fantastic). I especially want to thank Kerry, you have been amazing throughout this, not just on the day but for letting me have the time to train for these things and understanding my need to do these crazy things.
Anti clockwise anyone ?
In case anyone reading this is remotely inspired – here are my hot tips
Recce the whole thing to avoid nasty surprises
Get waterproof socks and comfortable footwear
Know your compass bearings (especially where you can't follow the wall)
Get people to do parts with you if you can, especially legs 3 and 4 as the mind can play tricks on you when alone with your thoughts
Plan food that is nutritious and easily eaten when tired
Stop talking about it and just go for it – the after buzz is incredible!
Good luck
Gavin (no 49)