In 2015 a group of 4 BARF runners made a group attempt at completing the DRR with two of them successfully completing it. Other club members and friends helped may this possible.This was the success round for Dave Evans and Joanne Curran.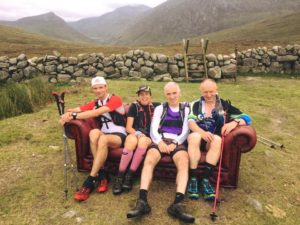 On 21st/22nd May BARF will again set off on another attempt, but this time it is being arranged for all NIMRA members.
This is not a race. The intention is to run/walk the route at the same pace as last year aiming for a 23hr completion. Already there are about 10 runners interested in making this attempt but more are welcome provided they are capable mountain runners. The intention is to start at 3.00am on Saturday 21st May. Runners can meet at Donard car park and give kit and refreshments to the support teams who will meet the runners at 4 points along the route.
We will need people who can offer to take 3 distinct roles during the attempt.
1. Runners who will work as a group running/walking at the 23hr pace and complete the full round. Lightweight walking poles recommended.
2. Support runners who will run/walk one or more sections of the round must be capable of helping carrying kit, supporting and encouraging plus taking photos etc. We may need some supporters who know the routes in the dark. If runners drop off the pace the support runners will be there to offer assistance.
3. Logistics/refreshments support to meet the runners and provide transport about the 5 stages. Without these people the event won't succeed.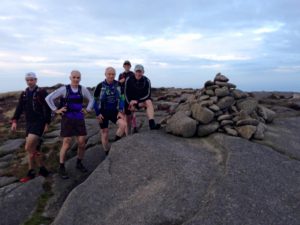 Happy Vale will once again become the base HQ for the group attempt.
The attempt will be weather dependant.
Please email g_kingston@hotmail.com if interested in joining this attempt in any of the 3 roles.